The Big Heist

The Big Heist Slots – Real Series Slot
The Big Heist Slots Review
The Big Heist Slots is a Real Time Gaming creation that will keep you coming back for more time and time again. It offers 3 reels and 1 payline with a max bet of 3 coins per spin.
Where can I play The Big Heist Slots?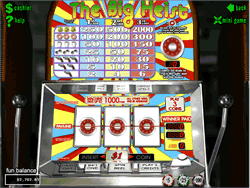 You can play The Big Heist Slots at any of our Choice Realtime Gaming Casinos:
Background to the Achilles video slot
The game's theme is Cops and Robbers and it offers fun and fitting symbols such as Police Badges, Doughnuts, Cups of Coffee, Pairs of Police Sunglasses, and Guns. The Big Heist Slots has a great Bonus Feature that you can activate in two different ways. First, you can hit three Safe Dials on the payline and automatically get the chance to crack the safe and win ten times the amount on the meter (credits are added to the meter for each dial that you hit on the payline). Or, you can collect fifty Safe Dials as you hit them on the reels. Once you have done this, you will win the fifty coins shown on the meter as your bonus. To win the Jackpot for this game, all you have to do is to hit 3 of the Police Badge symbols while betting max coins, and you will win 2,000 coins!
About The Big Heist Slots
Theme Cops and Robbers
Player Demographic Intermediate to Advanced
Highest Pay 2,000
2nd Highest Pay 500
Reels 3
Paylines 1
Coins Per Payline 1 to 3
Max Coins 3
Coin Sizes $0.05, $0.25, $0.50, $1.00, and $5.00
Progressive No
Wild Symbol No
Multiplier Symbol No
Scatter Symbol No
Feature Yes – Safe Bonus
Gamble No
Recommended Coin Size $0.05, $0.25, $0.50, $1.00,
and $5.00
Default Coin Size $0.50
No. Of Coins Allowed 1 Line x 3 Coins = 3 Coins
Default No. Of Coins 1 Line x 3 Coins = 3 Coins
Max Bet 1 Line x 3 Coins x 5.00 = $15.00
Min Bet 1 Line x 1 Coin x 0.05 = 0.05
Default Bet 1 Line x 3 Coins x 0.50 = 1.50
Jackpot in Coins 2,000 Coins
Max Jackpot 2,000 Coins x 5.00 = $10,000

The Big Heist Slots from RealTime Gaming reviewed
---