Pollen Nation

Pollen Nation Slots
Pollen Nation Slots Review
Polle Nation is an exciting and new game. View and try your hand at this bright and very graphic game that takes nature from outdoors to indoors with the Queen Bee who is wild and generous as she buzzes among her charges. Gathering nectar you will find some helpful Worker Bees laying the foundation for the Disco Dancing Bees who in turn love to spread across your screen and bring joy while multiplying your credits.
Where can I play Pollen Nation Slots?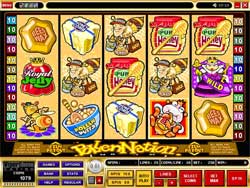 You can play Pollen Nation Slots at any of our Choice Microgaming Casinos:
Background to the Pollen Nation Slots
Tucked away you have the scatter Babee Bees, who have to, from time to time, excercise their little wings and take you into the folds of the honeycomb. This feature calls on you to pop honey cells and release the honey credits and bonus payout so that Babee Bee can collect and fill its bottle, but beware not to pop the stop cell too soon or you will be sent back to the main screen once again.
The game is played with 1 – 10 coins per line over 25 lines and 5 reels. On playing maximum bets you may receive up to 30,000 coins and a bonus payout of more than 16,000 credits during the feature.
About Pollen Nation Slot
Reels – 5
Paylines – 25
Coin Sizes (casinos discretion) – 0.01, 0.02, 0.05, 0.10, 0.20, 0.25, 0.50
Coins Per Payline – 1 to 10
Highest Pay – 60 000 Coins (5 Queen Bees)
Maximum Jackpot Normal Game: 60 000 coins
Maximum Jackpot Bonus Game: 32250 coins
Progressive – No
Wild Symbol – Yes
Multiplier Symbol – No
Scatter Symbol – Yes
Feature – Yes (Pick honeycombs until you pick the stop sign)
Gamble – No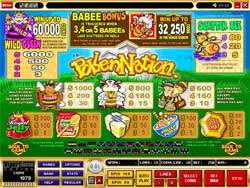 Payscreen Symbols for Pollen Nation
Queen Bee Wild Symbols – 6000 times 10 coins
Babee Bonus Symbols – 3, 4, or 5 Symbols triggers the bonus
Scatter Bee Symbols – 80 times 250 coins
Guard Bee Symbols – 1000 times 10 coins
Nurse Bee Symbols – 800 times 10 coins
Worker Bee Symbols – 600 times 10 coins
The 5 Bee Product Symbols – from 50 to 200 times 10 coins

Pollen Nation slots from microgaming reviewed
---