Skull Duggery

Skull Duggery Slots
Skull Duggery Slots Review
The most dangerous looking but amusing pirates you ever saw are offering players the chance to win big in Skull Duggery, an entertaining 5 reel, 9 payline video slot. The game is a feature-rich, advanced slot from Microgaming and has the wild 3x multiplier, and scatter possibilities that have made Big Kahuna such a hit in online gambling, all presented in a big, bright package with tons of fun.
In theme, Skull Duggery offers an amusing, high spirited pirate treasure game full of bold graphics and entertaining sounds and animations. It has a humorous Caribbean flavor, filled with oddball characters and luscious "wild" fruits. But the real fun comes in the Booty Bonus, where players select 1 out of 5 possibilities. The Pirate Captain has found valuable items missing from his personal treasure trove, and the usual suspects from his motley crew have been hauled up on deck for a lineout, and what a scurvy gang they are! The thief can expect a short stroll off the gangplank into shark infested waters, and the captain will richly reward the player with plenty of pirate plunder for identifying the guilty party.
Behind the high quality graphics and fast game play of Skull Duggery is Viper, Microgaming's elegant, cutting edge gambling software that empowers the player with a host of optional assists, features and analytical information to enhance the gambling experience. No other software on the market offers as wide a range of facilities, including autoplay as this.
Where can I play Skull Duggery Video Slots?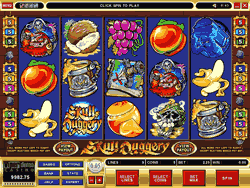 You can play Skull Duggery Video Slots at any of our Choice Microgaming Casinos:
Background to the Skull Duggery Video Slots
Skull Duggery is a 5 reel, 9 payline Video Slot game, with a Wild symbol, a Scatter symbol and a Bonus feature with Pick X of Y functionality.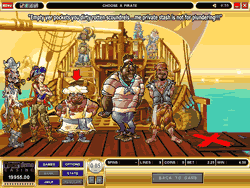 The game boasts many new and unique features that set a new standard for Video Slots in the online gaming environment. Skull Duggery, a high spirited pirate treasure themed game is full of bright, bold graphics and entertaining sounds and animations. This American style 5 Reel Video Slot has a humorous, Caribbean flavor, filled with colorful characters and mouthwatering fruits, which is sure to entice tourist through to advanced players. Wild and Scatter symbols contribute to an exciting hit rate, with the real entertainment however coming from the Booty Bonus Feature. Skull Duggery is sure to provide a highly entertaining and fun filled gaming experience that will be enjoyed by tourist through to advanced Players.
About Skull Duggery Video Slots
Reels – 5
Paylines – 20
Coin Sizes (casino sets) – 0.01, 0.02, 0.05, 0.10, 0.20, 0.25
Coins per Payline – 1 to 10
Highest Pay – 210 000 coins
Maximum Jackpot – 210 000 coins = 3000 coins x 10 coins per line x 7 in free spins (multiplier) = 210 000 coins
Progressive – No
Wild Symbol – No
Multiplier Symbol – Yes
Scatter Symbol – Yes
Feature – Yes, Free Spin Feature with multiplier
Gamble – Yes, either 2 times or 4 times using card suites or red and black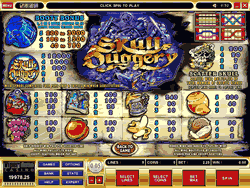 Payscreen Symbols for Skull Duggery
Theme – Treasure
Jackpot Value – 12,000 coins
2 nd Highest Pay – 1,000 coins
Reels – 5
Paylines – 9
Coins per Payline – 1-5
Coin Sizes – Various
Progressive – No
Wild Symbol – Yes, for food symbols only
Multiplier Symbol – Yes 3X
Scatter Symbol – Yes
Feature – Booty Bonus
Gamble – No
Feature Type – Pick X of Y
Number of Objects – 5
Number of Choices – 1
Recommended Coin Sizes – 0.01, 0.02, 0.05, 0.10, 0.20, 0.25, 0.50, 1.00 credits
Default Coin Size – 0.05 credits
No of Coins Allowed – 9 lines x 5 coins per line = 45 coins
Default No of Coins – 9 lines x 5 coins per line = 45 coins
Default Bet – 9 lines x 5 coins per line x 0.05 credit coin size = 2.25 credits
Max Bet – 45 coins x 1.00 credit coin size = 45.00 credits
Min Bet – 1 coin x 0.01 credit coin size = 0.01 credits
Jackpot in Coins – 12,000 x 5 coins = 60,000 credits
Max Jackpot in currency – 12,000 coins x 5 coins per payline x 1.00 credit coin size = 60,000 credits
---