Super Diamond Mine

Super Diamond Mine Slots – Real Series Slot
Super Diamond Mine Slots Review
Super Diamond Mine Slots is one of Real Time Gaming's greatest creations to date. It provides five reels and nine paylines of incredible fun with a max bet of five coins per line for a total of 45 coins per spin.
Where can I play Super Diamond Mine Slots?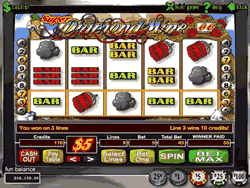 You can play Super Diamond Mine Slots at any of our Choice Realtime Gaming Casinos:
Background to the Super Diamond Mine Slots
The theme of this fantastic game is Mining, and the symbols that RTG designed for it are amazing. The regular reel symbols include Mines, Diamonds, Dynamite Bundles, Triple Bars, Double Bars and Single Bars. Super Diamond Mine Slots features a great Bonus Round, and to enter this Bonus Round, you just need to collect 99 diamonds on the regular reels of the game. Once you do this, you can win up to 4,950 Coins by exploring the different mines that appear. When you click on a mine to explore it, that mine will either collapse or you will collect money from it, you will continue collecting until one of the mines collapses on you. And with one cent, five cents, twenty five cents, fifty cents, one dollar and five dollar coin sizes, everyone can afford to play max bet!
About Super Diamond Mine Slots
Theme: Mining
Player Skill Level: Intermediate to Advanced
Highest Pay: 10,000 Coins
2nd Highest Pay: 6,000 Coins
Reels: 5
Paylines: 9
Coins Per Payline: 1 to 5
Max Coins: 45
Coin Sizes: $0.01, $0.05, $0.25, $0.50, $1.00 and
$5.00
Progressive: No
Wild Symbol: No
Multiplier Symbol: No
Scatter Symbol: No
Feature: Yes – Diamond Bonus
Gamble: No
Recommended Coin Size: $0.01, $0.05, $0.25, $0.50,
$1.00 and $5.00
Default Coin Size: $0.25
No. Of Coins Allowed: 9 Lines x 5 Coins = 45 Coins
Default No. Of Coins: 9 Lines x 1 Coin = 9 Coins
Max Bet: 9 Lines x 5 Coins x $5.00 = $225.00
Min Bet: 1 Line x 1 Coin x $0.01 = $0.01
Default Bet: 9 Lines x 1 Coin x $0.25 = $2.25
Jackpot in Coins: 10,000 Coins
Max Jackpot: 10,000 Coins x $5.00 = $50,000

Super Diamond Mine Slots from RealTime Gaming reviewed
---