Frozen Assets

Frozen Assets Slots – Real Series Slot
Frozen Assets Slots Review
Frozen Assets Slots is an incredible online slot machine that was created by RTG. It has 3 reels and 1 payline with a max per spin bet of 3 coins. The theme of this game is, of course, Winter and this theme is very well illustrated through the use of the game's graphics as well as the sound effects.
Recommended Slots Casino for playing Frozen Assets Slots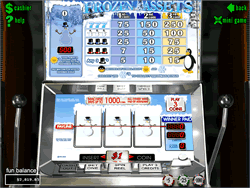 You can play Frozen Assets Slots at any of our Choice Realtime Gaming Casinos
Frozen Assets Slots has a fun bonus feature that can really make your credits add up quickly. To access this Snowman Bonus, you need to collect 200 Snowflakes. The Snowman Bonus starts at 500 coins and with each Snowflake that is collected, this total is added to. Beware of the Sun though, because just like in real life, your snowflakes will melt away when the Sun comes out. What this means is that for each Sun on the payline, one of your Snowflakes will be removed, however, the Sun does still add to your Snowman Bonus bank. The game also offers a Wild Symbol. The Penguin Head Symbol is the Wild Symbol, and it will replace any of the symbols on any reels with the exception of the Sun and the Snowflakes. The symbols included in this game are Ice Blue Sevens, Top Hat with a Blue Ribbon, Top Hat with a Red Ribbon and the bonus/feature symbols including the Sun, the Snowflake and the Penguin Head. The coin sizes for Frozen Assets Slots are $0.05, $0.25, $0.50, $1.00, and $5.00.
About Frozen Assets Slots
Theme Winter
Player Demographic Intermediate to Experienced
Highest Pay 250
2nd Highest Pay 150
Reels 3
Paylines 1
Coins Per Payline 1 to 3
Max Coins 3
Coin Sizes $0.05, $0.25, $0.50, $1.00, $5.00
Progressive No
Wild Symbol Yes – Penguin
Multiplier Symbol No
Scatter Symbol No
Feature Yes – Snowman Bonus
Gamble No
Recommended Coin Size $0.05, $0.25, $0.50, $1.00, $5.00
Default Coin Size $0.50
No. Of Coins Allowed 1 Line x 3 Coins = 3 Coins
Default No. Of Coins 1 Line x 3 Coins = 3 Coins
Max Bet 1 Line x 3 Coins x 5.00 = 15.00
Min Bet 1 Line x 3 Coins x 0.05 = 0.15
Default Bet 1 Line x 3 Coins x 0.50 = 1.50
Jackpot in Coins 250
Max Jackpot 250 coins x $5.00 = $1,250

Frozen Assets Slots from RealTime Gaming reviewed
---