El Toro

El Toro Slots
El Toro Slots Review
El Toro Slots is a classic slot machine that was created by RealTime Gaming Software. It is three reel, one payline online slot machine with coin sizes that range from five cents all the way up to five dollars.
Recommended Slots Casino for playing El Toro Slots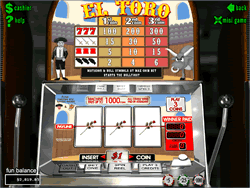 You can play El Toro Slots at any of our Choice Realtime Gaming Casinos
When you hit El Toro Slots and the Matador on the same payline, you will get to enter into the bonus round. All you have to do in the Bonus Round is simply pick who you think will win the bullfight by clicking on either the Matador or the El Toro graphics that are located on either side of the game. The bullfight will begin and if your pick wins, you win two hundred coins. This bonus feature in El Toro Slots is a great addition to the game and will add lots to your gaming experience. Head on over to your favorite Real Time Gaming casino and try this great game today! El Toro Slots is a great addition to your list of favorite games!
About El Toro Slots
Theme: Bull Fighting
Player Skill Level: Tourist to Intermediate
Highest Pay: 300 Coins
2nd Highest Pay: 200 Coins
Reels: 3
Paylines: 1
Coins Per Payline: 1 to 3
Max Coins: 3
Coin Sizes: $0.05, $0.25, $0.50, $1.00, $5.00
Progressive: No
Wild Symbol: No
Multiplier Symbol: No
Scatter Symbol: No
Feature: Yes – Bull Fight
Gamble: No
Recommended Coin Size: $0.05, $0.25, $0.50, $1.00, $5.00
Default Coin Size: $0.05
No. Of Coins Allowed: 1 Line x 3 Coins = 3 Coins
Default No. Of Coins: 1 Line x 3 Coins = 3 Coins
Max Bet: 1 Line x 3 Coins x 5.00 = 15.00
Min Bet: 1 Line x 3 Coins x 0.05 = 0.15
Default Bet: 1 Line x 3 Coins x 0.05 = 0.15
Jackpot in Coins: 300
Max Jackpot: 300 x 5.00 = 1,500

El Toro Slots from RealTime Gaming reviewed
---