Mega Moolah

Mega Moolah Slot
Mega Moolah Slot Review
Introduction to the Mega Moolah Progressive Video Slot
In the tranquility of the African bush lies Mega Moolah and a very proud but wild Lion that substitutes for all symbols other than the scatter Monkey. Roaming free the Lion will add value to all your winning combinations by doubling your payline bet. From out of the tree tops, any three or more scattered Monkeys will reward you with an awesome 15 free spins that may be re-triggered, and all wins are multiplied by the total bet. A surprise four tiered random Progressive Jackpot that is in play could well make your stay in the African bush all that more worthwhile.
Game Screen of the Mega Moolah Progressive Video Slot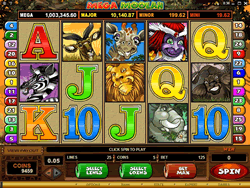 You can play Mega Moolah here

What's the Mega Moolah Progressive Video Slot all about?
In Mega Moolah, you will find the interaction of the following three movies joined into one. In the animated movie "Madagascar", a zebra, a hippo, a giraffe, and a lion escape from New York City's Central Park Zoo, only to find themselves stranded on the African island of Madagascar. There, the friends, who have all been raised in captivity, learn what life can be like in the wild. A heroic coming-of-age story in the "Lion King" which follows the epic adventures of a young lion cub named Simba as he struggles to accept the responsibilities of adulthood and his destined role as king of the jungle. Disney un-cages the laughs in the hip and hilarious comedy "The Wild". When a band of furry friends escape from the city zoo, they discover that New York City is the biggest, craziest jungle of all.
Mega Moolah Progressive Video Slot Bonus Screens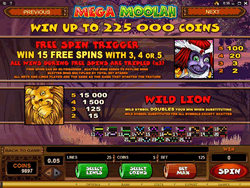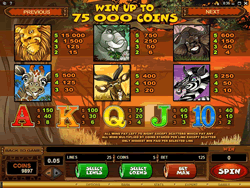 Mega Moolah Progressive Video Slot Payout and Winner Screen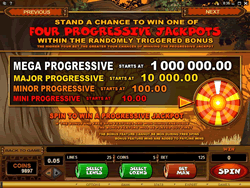 Mega Moolah Progressive Video Slot Vital Statistics
Theme – African Animals
Reels – 5 Reels
Paylines – 25 Paylines
Coin Sizes – 0,01; 0,02; 0.05
Highest Pay – 15,000 coins x 5 coins per line = 75,000 coins in base game. 15,000 coins x 5 coins per line x 3 Multiplier = 225,000 coins in Free Spin round
Wild Symbol – Lion
Free Spins Feature – Yes
Bonus trigger symbol – No
Scatter Symbol – Monkey
Gamble Feature – No
Bonus Feature – Yes (random)
Progressive – Yes, Random and 4 tiered
Mega Moolah Progressive Video Slot Paylines
Lion – 15000 for 5 symbols x 1 coin
Elephant – 750 for 5 symbols x 1 coin
Buffalo – 600 for 5 symbols x 1 coin
Giraffe – 500 for 5 symbols x 1 coin
Antelope – 400 for 5 symbols x 1 coin
Zebra – 250 for 5 symbols x 1 coin
Ace – 150 for 5 symbols x 1 coin
King – 100 for 5 symbols x 1 coin
Monkey – 100 for 5 symbols x 1 coin
Queen – 75 for 5 symbols x 1 coin
Jack – 60 for 5 symbols x 1 coin
Ten – 40 for 5 symbols x 1 coin
Mega Moolah Progressive Video Slot wrap up
Mega Moolah offers superb graphics and animation in this 5 reels x 25 payline video slot. Over and above the Wild substitute and free spin scatter feature, you have a multi-choice random Progressive Jackpot

Slots reviews! Mega Moolah Progressive Video Slot from microgaming
---