Mardi Gras

Mardi Gras Slots
Mardi Gras Slots Review
Take a little bit of fun, mix it with a little entertainment, and out comes a great opportunity to keep you going for some time, so let us do the honors and entertain you with fun for a while.
Where can I play Mardi Gras?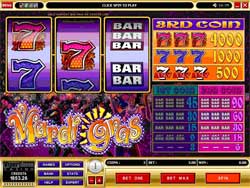 You can play Mardi Gras Slots at any of our Choice Microgaming Casinos:
All you would need to do is place 3 coins in this carnival "fountain", Mardi Gras, and you could be banking as much as 4,000 coins. Based on a buy-a-pay system, each coin played will trigger its own winning combination. An extremely colourful Carnival themed game, with paylines that include payments on Blanks, Any Bar, Single Bars, Double Bars,and Triple Bars as well as Mixed, Blue and Red Party 7's. A great time to while away the hours.
About Mardi Gras Slot
Reels – 3
Paylines – 1
Coin Sizes – 0.25; 0.50, 1.00, 2.00, 5.00
Coins Per Payline – 3
Highest Pay – 4 000 Coins
Progressive – No
Wild Symbol – No
Bonus Symbol – No
Scatter Symbol – No
Feature – No
Gamble – No
Payscreen Symbols for Mardi Gras Slot
Rainbow 777's – (3rd Coin Only) 4000 payout for 3 coins
Blue 777's – (3rd Coin Only) 1000 payout for 3 coins
Any 777's – (3rd Coin Only) 500 payout for 3 coins
Triple Bar Symbols – 90 payout for 2 coins
Double Bar Symbols – 60 payout for 2 coins
Single Bar Symbols – 30 payout for 2 coins
Any Bar Symbols – 18 payout for 2 coins
No Symbols on Payline – 6 payout for 2 coins

Mardi Gras slots from microgaming reviewed
---