Muchos Grande

Muchos Grande Slots
Muchos Grande Slots Review
Put a Mexican on his donkey, a sack on his back full of gold, Red Hot Chillies, Avos, Tomatoes, Brinjals and corn on the Cob, and what do you have? I will tell you, you have a wonderful, animated Video game called Muchas Grande. This warm, home on the range game will give you hours of playing pleasure. Let the child in you bring to the fore the wildest of your imagination, and allow yourself to be absorbed in fun.
Where can I play Muchos Grande?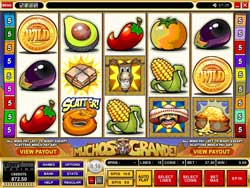 You can play Muchos Grande Slots at any of our Choice Microgaming Casinos:
Background to the Muchos Grande Slots
This 5 reel x 15 line game has a wild substitute symbol, the large Pesos. As a substitute it will take on any other symbol other than the map symbol. Three or more map symbols will trigger the hidden treasure screen. Here you get to choose where you think the treasure has been hidden. Simply put, Muchas Grande is pure fun in the sun. The rattler is your scatter symbol and multiplies your wins by the number of credits staked.
About Muchos Grande Slot
Reels – 5
Paylines – 15
Coin Sizes (casino sets) – 0.01, 0.02, 0.05, 0.10, 0.20, 0.25, 0.50
Coins Per Payline – 1 to 5
Highest Pay – 45 000 coins (9000 time 5 coins)
Bonus Screen – 5 000 coins (pick 3, 4, or 5 of 8 locations with 200 coins treasure prize times 5 coins)
Maximum Jackpot – 22 500 (45 000 coins times 0.50) for 5 wild symbols. A further 2 500 can be won in the bonus screen.
Progressive – No
Wild Symbol – Yes
Bonus Symbol – Yes
Scatter Symbol – Yes
Feature – Yes (Bonus Screen)
Gamble – No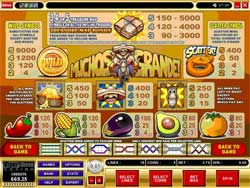 Payscreen Symbols for Muchos Grande
Wild Symbols – 9000 times 5 coins
Treasure Map Symbols – 150 times 5 coins PLUS triggers the bonus screen feature
Scatter Rattler Symbols – 400 times 5 coins. Scatter wins are multiplied by the number of credits staked
Sack of Gold Symbols – 450 times 5 coins
Gringo Symbols – 400 times 5 coins
Donkey Symbols – 250 times 5 coins
Chillie Symbols – 120 times 5 coins
Maize Symbols – 120 times 5 coins
Brinjal Symbols – 100 times 5 coins
Avo or Tomato Symbols – 80 times 5 coins

Muchos Grande slots from microgaming reviewed
---