Light Speed

Light Speed Slots – Real Series Slot
Light Speed Slots Review
Light Speed Slots is a wonderful RTG creation. It offers three reels and one payline with a three coin per spin max bet. The theme is Outer Space, and is very well represented by all aspects of this great game.
Recommended Slots Casino for playing Light Speed Slots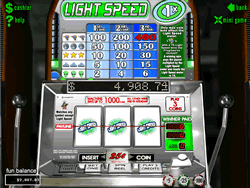 You can play Light Speed Slots at any of our Choice Realtime Gaming Casinos:
The reel symbols are Laser Guns, the Planet Earth, Stars, UFOs and Aliens. Light Speed Slots offers a Bonus feature, and in order to qualify for the bonus, first make sure that you are making the max bet per spin. Once you are betting the max bet, notice that there is a Light Speed Meter on the machine that is represented by the lights going up both sides of the machine. Each time you hit a Light Speed symbol on the payline, the Light Speed Meter is increased. A winning spin then pays the payout on the payline multiplied by the level reached on the Light Speed Meter, and once a winning spin has occurred, the Light Speed Meter is set back to one. To win the progressive jackpot in this game, you must hit three laser guns at the top level of the Light Speed Meter, which is at 7x on the meter. There is also a Wild Symbol in the game, and the Robot Symbol is this symbol. It will replace any symbol on the reels except for the Light Speed Symbol to create a winning combination.
About Light Speed Slots
Theme: Outer Space
Player Demographic: Novice to Beginner
Highest Pay: Progressive
2nd Highest Pay: 400 Coins
Reels: 3
Paylines: 1
Coins Per Payline: 1 to 3
Max Coins: 3
Coin Sizes: 25 Cents
Progressive: Yes
Wild Symbol: Yes – the Rocket
Multiplier Symbol: No
Scatter Symbol: No
Feature: Yes – Light Meter Bonus
Gamble: No
Recommended Coin Size: $0.25
Default Coin Size: $0.25
No. Of Coins Allowed: 3
Default No. Of Coins: 1
Max Bet: 3 Coins x 1 Line x $0.25 = $0.75
Min Bet: 1 Coin x 1 Line x $0.25 = $0.25
Default Bet: 1 Coin x 1 Line x $0.25 = $0.25
Jackpot in Coins: Progressive
Max Jackpot: Progressive

Light Speed Slots from RealTime Gaming reviewed
---