Munchkins

Munchkins Slots
Munchkins Slots Review
Munchkins Slots is one of Microgaming Software's newest Video Slot Machines. It provides players with Five Reels and Fifteen Paylines of fun as well as a 10 coin per line or 150 coin per spin max bet.
Where can I play Munchkin Slots?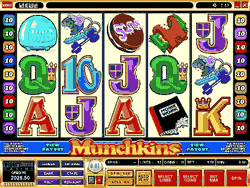 You can play Munchkin Slots at any of our Choice Microgaming Casinos:
Background to the Munchkin Slots
The theme of Munchkins Slots is one that plays off the little critters responsible for missing socks, keys and homework. The symbols used in the game include Homework, Keys, Wallets, Aces, Kings, Queens, Jacks , Tens, Scatter Cookies and the Wild Capsules. Munchkins Slots has Scatter Cookies that, in addition to paying you a special Scatter pay, triggers a 20 Free Spins round where all wins are doubled. The Jackpot Trigger for the game is the Wild Capsule. When you hit five of these capsules, you will win the 15,000 coin Jackpot! The game also offers a great gamble feature. The coin sizes available for this new game are One Cent, Two Cents, Five Cents, Ten cents, Twenty Cents, Twenty Five Cents and Fifty Cents.
About Munchkin Slot
Theme – Humor
Player Demographic – Beginner to Intermediate
Sequel to – Ho Ho Ho
Highest Pay – 15,000 Coins
2nd Highest Pay – 1,000 Coins
Reels – 5
Paylines – 15
Coins per Payline – 1 to 10
Max Coins – 150
Coin Sizes – 0.01, 0.02, $0.01,$ 0.02, $0.05, $0.10, $0.20, $0.25, $0.50
Progressive – No
Wild Symbol – Yes
Multiplier Symbol – No
Scatter Symbol – Yes
Feature – Yes, Free Spin
Gamble – Yes
Recommended Coin Size – $0.01,$ 0.02, $0.05, $0.10, $0.20, $0.25, $0.50
Default Coin Size – $0.01
No. Of Coins Allowed – 15 lines x 10 coins = 150 Coins
Default No. Of Coins – 15 lines x 10 coins = 150 Coins
Max Bet – $0.50 x 10coins x 15 lines = $75.00
Min Bet – $0.01 x 1coin x 1 line =$ 0.01
Default Bet – 15 lines x 10 coins x $0.01 = $1.50
Jackpot in Coins – 15 000 x 10 coins = 150 000 coins Free Spins: 150 000 x 2X Multiplier = 300,000 coins
Max Jackpot – 15 000 x 0.50 x 10 coins = $75,000.00 Free Spin: 75 000.00 x 2X Multiplier = $150,000.00

Munchkins slots from microgaming reviewed
---