Halloweenies

Halloweenies Slots
Halloweenies Slots Review
Halloweenies Slots is one of Microgaming Software's newest creations, and just in time for Halloween! This great new slot has lots to offer, including Five Reels and Twenty Paylines of non-stop fun with betting capabilities of up to 5 coins per payline for a 100 coin max per spin bet, making Halloweenies very affordable all kinds of players.
Where can I play Halloweenies?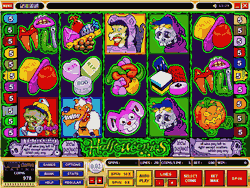 You can play Halloweenies Slots at any of our Choice Microgaming Casinos:
Background to the Halloweenies Slots
The theme of the game is the American Holiday of Halloween. The symbols used in the game are The "Wild" symbol, Pumpkins, Scatter Bunnies, Wolves in Sheep's clothing, the Witch dressed as a Rat, Franken-Nurse, the Skeleton, and several different candy-themed symbols. Halloweenies offers A Wild Symbol, A Scatter Symbol, a pick X of Y bonus feature and a Free Spins feature in which all wins are tripled. The coin sizes available for Halloweenies Slots are One Cent, Two Cents, Five Cents, Ten Cents, Twenty Cents, Twenty Five Cents and Fifty Cents and the Jackpot offered by this incredible new game is 13,000 coins.
About Halloweenies Slot
Theme – Halloween
Player Skills – Tourist to Beginner
Highest Pay – 13,000
2nd Highest Pay – 1,300
Reels – 5
Paylines – 20
Coins Per Payline – 1 to 5
Max Coins – 100
Coin Sizes – $0.01, $0.02, $0.05, $0.10, $0.20,
$0.25, $0.50
Progressive – No
Wild Symbol – Yes – "Wild"
Multiplier Symbol – No
Scatter Symbol – Yes – Scatter Bunny
Feature – Yes – Pick X of Y and Free Spins
Gamble – No
Recommended Coin Size – $0.01, $0.02, $0.05, $0.10, $0.20, $0.25, $0.50
Default Coin Size – $0.02
No. Of Coins Allowed – 20 Lines x 5 Coins = 100 coins
Default No. Of Coins – 20 Lines x 5 Coins = 100 coins
Max Bet – $0.50 x 5 Coins x 20 Lines = $50.00
Min Bet – $0.01 x 1 Coins x 1 Lines = $0.01
Default Bet – 20 Lines x 5 Coins x $0.02 = $2.00
Jackpot in Coins – Base Game – 13,000 coins Free Spins – 13,000 coins x "3x Multiplier" = 39,000 coins
Max Jackpot – Base Game 13000 coins x $0.50 x 5 coins = $32,500
Free Spins – 32,500 x 3x Multiplier = $97,500.00

Halloweenies slots from microgaming reviewed
---