What on Earth

What on Earth Slots
What on Earth Slots Review
Microgaming has created a wonderful new Video Slot Game that is called What On Earth. This 5 reel, 9 payline slot machine has a per spin maximum bet of five coins and offers a fun and innovative "Space Invader" theme.
Where can I play What on Earth?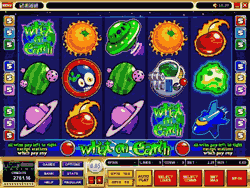 You can play What on Earth Slots at any of our Choice Microgaming Casinos:
Background to the What on Earth Slots
There are a lot of things that add character to this fun new game starting with the symbols. The reel symbols are a little blue alien looking through the window of its spacecraft, a space ship control panel, a glowing green asteroid, a watermelon "planet" with purple spotted moons, a purple plum "planet", and Orange "Sun and a flaming Cherry Comet. Then, moving to the "feature" symbols, the "What On Earth" Symbol is the Wild Symbol substitutes for both the "little blue alien looking through the window of its spacecraft" symbol and for the "space ship control panel" symbol. The game offers three different Scatter Symbols, a red space ship, a green UFO, and a blue spaceship. What On Earth, in addition to all of the features so far, has a bonus feature. Each time you hit 3 Blue Spaceships or 3 Green UFOs or if hit 3, 4 or 5 Red Spaceships scattered on adjacent reels, you are entered into the Destination Bonus feature. As extra added bonus, if you find the special "Contest" Symbol, you will be entered into the "Beam Me Up" Bonus screen which offers an incredible winning potential. The coin sizes range from one cent to one dollar in this game, making the game affordable for everyone to enjoy.
About What on Earth Video Slot
Theme – Space Invader
Player Skills – Novice to Medium
Highest Pay – 7, 500 Coins
2nd Highest Pay – 1,000 Coins
Reels – 5
Paylines – 9
Coins Per Payline – 1 to 5
Max Coins – 45
Coin Sizes – 0.01, 0.02, 0.05, 0.10, 0.20, 0.25,
0.50, 1.00
Progressive – No
Wild Symbol – Yes
Multiplier Symbol – No
Scatter Symbol – Yes
Feature – Yes – Bonus Screens
Gamble – No
Recommended Coin Size – 0.01, 0.02, 0.05, 0.10, 0.20, 0.25, 0.50, 1.00
Default Coin Size – 0.05
No. Of Coins Allowed – 9 lines x 5 coins per line = 45 coins
Default No. Of Coins – 5
Max Bet – 9 lines x 5 coins per line x 1.00 = 45.00
Min Bet – 1 lines x 1 coin per line x 0.01 = 0.01
Default Bet – 9 lines x 5 coins per line x 0.05 = 2.25
Jackpot in Coins – 7, 500 x 5 Coins = 37, 500 Coins
Max Jackpot – 7500 coins x 5 coins per line x 1.00 = $37,500.00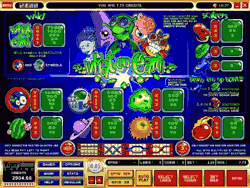 What on Earth slots from Microgaming reviewed
---