Secret Admirer

Secret Admirer Slots
Secret Admirer Slots Review
One look at the richly colored graphics on Microgaming's latest 5 Reel video slot, Secret Admirer will tell you that this is a game that has particular appeal for the important female online gambler, but make no mistake this feature-rich slot packs plenty action for other players too.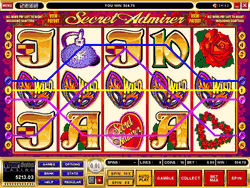 You can play Secret Admirer Slots at any of our Choice Microgaming Casinos:
The overall theme is romance, and careful research lies behind the evocative icons which include diamond rings, red roses, colourful masks, hearts and just a whiff of expensive perfume.
The game boasts many new and unique features that set a new standard for Video Slots in the online gaming industry.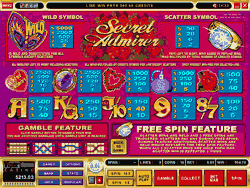 Background to the Secret Admirer Slots
Diamond rings are scatters that also trigger the Bonus Free Spin Feature which can escalate into a climactic crescendo of sparkling jewels and big winnings if the Super Hold Feature is triggered in this new Australian style video slot. Adding to the suspense and drama is a Gamble Feature which allows players to take a daring chance at doubling their winnings.
When it comes to game genre, Secret Admirer is a 5 reel, 9 payline, 10 Coin Video Slot game, with a Wild symbol, an adjacent left to right Scatter symbol, Free Spin Super Hold Bonus Feature and a double your money Gamble Screen.
The Free Spin Super Hold Feature is triggered when 2 or more scatter diamonds land adjacently left to right on the reels. Those reels are then held whilst the other reels are automatically spun 3 times. During Free Spins scatters pay any and improved scatters are held. If all 5 Scatter symbols are held then the 5 Scatter pay is repeated 3 times. The player can with max bet win up to 25,560 Coins in the Free Spin feature.
The game maximum jackpot is 5 000 coins, with the second highest payer at 2500 coins. Coin sizes of 0.01, 0.02, 0.05, 0.10, 0.20, 0.25, 0.50, 1.00 can be played, with 0.05 as the default setting.
This is Microgaming's first 10 coins per payline video slot, and with the 10 coin, 9 line format up to 90 coins per spin can be wagered. On the 0.05 coin default setting this would return 4.50 credits (0.05 credit size X 10 coin X 9 lines = 4.50 credits.)
About Secret Admirer Slot
Theme – Romance
Sequel of – Secret Admirer Reel Slot
Jackpot Value – 5,000 coins
2 nd Highest Pay – 2,500 coins
Reels – 5
Paylines – 9
Coins per Payline – 10
Max Coins – 90
Coin Sizes – 0.01, 0.02, 0.05, 0.10, 0.25, 0.50, 1.00 Credits
Progressive – No
Wild Symbol – Yes
Multiplier Symbol – No
Scatter Symbol – Yes
Feature – Yes, Free Spin Feature
Gamble – Yes, Double
Coin Size – 0.01, 0.02, 0.05, 0.10, 0.25, 0.50, 1.00 Credits
Default Coin Size – 0.05 credits
No. of Coins Allowed – 90 coins
Default No. of Coins – 90 coins
Max Bet – 1.00 credit coin size x 10 coin x 9 lines = 90.00 credits
Min Bet – 0.01 credit coin size x 10 coin x 9 line = 0.01 credits
Default Bet – 0.05 credit coin size x 10 coin x 9 lines = 4.50 credits

Secret Admirer video slot from microgaming
---