Moonshine

Moonshine Slots
Moonshine Slots Review
Moonshine, a very graphic video slot game depicting how in times gone by, and possibly even today what some folks would do and drink when celebrating with their buddies. However this game is not here to promote Moon Shine, but rather to promote a little fun in your life, and all from the comfort of your own home. With rocking Granny's and rolling Banjo players, you will find some rather strange eats such as sardines in a tin, stir fried meat served from the frying pan, sliced fruit and a Pumpkin Pie made just like Granny used to make. Beware, those other little characters can't stand for too long, so you need to push the button and keep those reels rolling and your credits accumulating. Although pretty realistic, this graphically animated cartoon theme game will give you hours of great fun.
Where can I play Moonshine?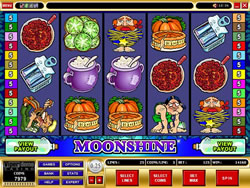 You can play Moonshine Slots at any of our Choice Microgaming Casinos:
Background to the Moonshine Slots
Granny rocks onto your screen in the form of the ever popular substitute, but unfortunately does not substitute for the Bonus and Scatter symbol. Your spin feature will be activated by three or more Bonus bottles where you will be given the choice of choosing your rewards of spins and multipliers from a screen of blocks. Once you have made those choices, your spin feature will continue. When dealing with such a potent potion, you need to have the law on your door step, and in this instance you will be visited by the Sheriff, and any two or more Sheriffs appearing will give you the edge by adding to your payline bet.
About Moonshine Slot
Reels – 5
Paylines – 25
Coin Sizes (casino sets) – 0.01, 0.02, 0.05, 0.10, 0.20, 0.25, 0.50; 1.00
Coins Per Payline – 1 to 5
Highest Pay – 40 000 Coins
Maximum Jackpot – 40 000 coins for 5 Wild wild symbols (8 000 x 5) Grow this to 160 000 coins if you hit this during free spin play with up to 4 times
Progressive – No
Wild Symbol – Yes
Scatter Symbol – Yes
Feature – Yes (Yes – Selection screen and free spins with multiplier)
Gamble – No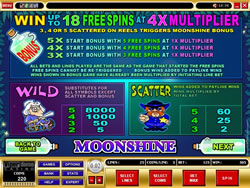 Payscreen Symbols for Avalon
Granny in the Rocking Chair Wild Symbols – 8000 times 5 coins
Sheriff Scatter Symbols – 60 times 5 coins
Farmer with Pipe Symbols – 500 times 5 coins
Banjo Player Symbols – 400 times 5 coins
Watchman Symbols – 200 times 5 coins
Pig Symbols – 100 times 5 coins
Pumpkin pie Symbols – 90 times 5 coins
Stir Fry in a Pan Symbols – 80 times 5 coins
Sugar Bowl Symbols – 60 times 5 coins
Sardines Symbols – 50 times 5 coins
Sliced fruit Symbols – 40 times 5 coins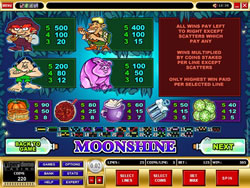 Moonshine slots from microgaming reviewed
---