Nutty Squirrel

Nutty Squirrel Slots Slot
Nutty Squirrel Slots Review
Today you will be amazed at these normally annoying little creatures as they play around your screen and offer up rewards instead of creating havoc around the neighborhood. Three or more bright and shiny little Golden Acorns neatly scattered around your screen will ease you into the free spin feature doubling your wins, and could well be retriggered at any time. Take special note of the Nutty Squirrel that substitutes for all symbols other that the Golden Acorns, doubles your payline bet and which only appears on reels 1 and 5. This superb video slot is laced with super graphics, animation and sound.
Where can I play Nutty Squirrel?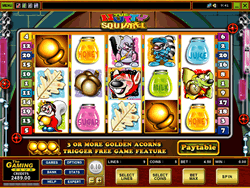 Background to the Nutty Squirrel slots
Squirrels occur throughout the world except for Australia, Madagascar, southern South America, parts of North Africa ,polar and some desert regions. They inhabit a wide variety of habitats from the tops of trees to underground tunnels .There are seven native species of tree squirrels in North America, which include the Pine Squirrel, Douglas Squirrel, Fox Squirrel, Eastern Gay Squirrel and the Abert Squirrel. Classified as granivore/herbivores they primarily rely on the products of the trees in the habitats in which they live. They are known to eat bark of dead trees for the fungal mycelia within. Squirrels have a large cecum, optimized to digest plant protein, not animal protein.
About Nutty Squirrel Slots
Theme Comical
Reels 5 Reels
Paylines 20 Paylines
Coin Sizes 0.01; 0.02; 0.05; 0.10; O.20; 0.50
Coins per Payline 1 – 20
Highest Pay 200,000
Maximum Jackpot 5000 x 20 coins per line x 2 (substitute)= 200,000 coins in base game
5000 x 20 coins per line x 2 (substitute)= 200,000 x 2 multiplier = 400,000 in free spin feature
Wild Symbol Yes
Scatter Symbol Yes
Free Spins Yes
Feature Yes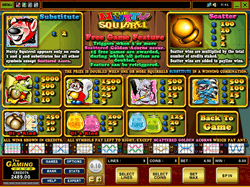 Payscreen Symbols for Nutty Squirrel Slots
Green Squirrel 5000 times 20 coins per line
Royal Squirrel 1500 times 20 coins per line
Gladiator Squirrel 500 times 20 coins per line
Armored Squirrel 500 times 20 coins per line
Acorn and Silver leaf 250 times 20 coins per line
Yellow and Pink Honey POt 200 times 20 coins per line
Blue and Green Honey Pot 125 times 20 coins per line
Golden Acorn (scatter) 100 times 20 coins per line
Summary of Nutty Squirrel Slots
Bright, cute and very entertaining. You get the feeling of relaxing in your back garden while these little rodents entertain you.

Nutty Squirrel slots from microgaming reviewed
---