Spellbound

Spellbound Slots
Spellbound Slots Review
Spellbound Slots is a fantastic new fantasy filled slot game from Microgaming Software. This new game offers Three Reels, Three Paylines and a max per spin bet of Three Coins.
Where can I play Spellbound?

You can play Avalon Slots at any of our Choice Microgaming Casinos:
Background to the Spellbound Slots
Spellbound Slots offers a great Fantasy Theme that is very well illustrated by the incredible graphics and sound effects offered by the creators of the game. These symbols include the Enchantress, the Owl, the Amulet, and of course, Triple Bars, Double Bars and Single Bars. As an added benefit, Spellbound Slots does offer a Wild Symbol, which is represented by the Enchantress. This wild symbol will replace any of the symbols on any of the reels to complete a winning combination. This feature adds several chances to win with each and every spin. The coin sizes available for the game are One Cent, Two Cents, Five Cents, Ten Cents, Twenty Cents, Twenty Five Cents, Fifty Cents, One Dollar, Two Dollars and Five Dollars and the jackpot is 6,000 coins for this great game.
About Spellbound Slot
Theme – Fantasy
Player Skills – Beginner to Intermediate
Based on – Goblins Gold
Highest Pay – 6,000 coins
2nd Highest Pay – 3,000 coins
Reels – 3
Paylines – 3
Coins Per Payline – 1
Max Coins – 3
Coin Sizes – $0.01, $0.02, $0.05, $0.10, $0.20, $0.25, $0.50, $1.00, $2.00, $5.00
Progressive – No
Wild Symbol – Yes – the Enchantress
Multiplier Symbol – No
Scatter Symbol – No
Feature – No
Gamble – No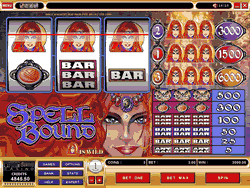 Recommended Coin Size – $0.01, $0.02, $0.05, $0.10, $0.20, $0.25, $0.50, $1.00, $2.00, $5.00
Default Coin Size – $1.00
No. Of Coins Allowed – 3 Lines x 1 Coins = 3 coins
Default No. Of Coins – 3 Lines x 1 Coins = 3 coins
Max Bet – $5.00 x 1 Coin x 3 Lines = $15.00
Min Bet – $0.01 x 1 Coins x 1 Lines = $0.01
Default Bet – 3 Lines x 1 Coins x $1.00 = $3.00
Jackpot in Coins – 6000 coins
Max Jackpot – 6000 coins x $5.00 = $30,000.00

Spellbound slots from microgaming reviewed
---