Kathmandu

Kathmandu Slots
Kathmandu Slots Review
Mahouts leading majestic Elephants through the streets of Kathmandu, the sound of Giant Bells ringing in the distance, and Prayer Wheels with the Sanskrit Sutras written by the Buddhists on narrow pieces of paper and placed within the Prayer Wheels, and Temples spread throughout the valleys is what this super video Slot is all about. This Eastern themed 5 reel x 9 payline Video Slot of Kathmandu, is captured by stunning graphics with the quality of digital sound effects, all of which is brought to you by Microgaming, with hours of fun and entertainment in mind.
Where can I play Kathmandu?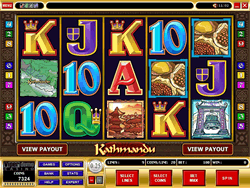 You can play Kathmandu Slots at any of our Choice Microgaming Casinos:
Background to the Kathmandu Slots
During normal play, the Prayer Wheel substitutes for all symbols other than the Giant Bells. Magnificent Temples substitute for all symbols except the Giant bell during the free spin feature only, but a further two wild Temples have been added during the feature, and these will substitute for all symbols including the Giant Bell. To activate the spin feature (15 free spins) you require 3 – 5 scattered Giant Bells. A random mystery multiplier is activated during your free spin feature where you may be rewarded with a 2 – 5 times multiplier. Should you choose, there is also a Gamble feature available, where you could either double or quadruple your payline winnings by choosing either a colour or suite of cards.
About Kathmandu Slot
Reels – 5
Paylines – 9
Coin Sizes (casino sets) – 0.01, 0.02, 0.05, 0.10, 0.20, 0.25
Coins Per Payline – 1 to 20
Highest Pay – 120 000 Coins
Maximum Jackpot – 120 000 coins for 5 Wild wild symbols (6000 x 20 coins). Grow this to 600 000 coins if you hit this during free spin play with up to a 5 times mystery multiplier!
Progressive – No
Wild Symbol – Yes
Multiplier Symbol – Yes
Scatter Symbol – Yes
Feature – Yes (Free spins with mystery multiplies and an extra wild symbol)
Gamble – Yes, either 2 times or 4 times using card suites (Maximum 10 000 coins)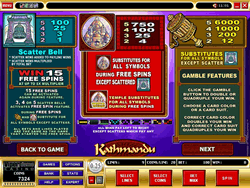 Payscreen Symbols for Kathmandu
Prayer Wheel Wild Symbols – 6000 times 20 coins
Bell Scatter Symbols – 100 times 20 coins PLUS 15 free spins
Temple Symbols – 750 times 20 coins PLUS features as an extra wild during free spins round
Eastern City Symbols – 600 times 20 coins
Elephant Symbols – 400 times 20 coins
Food Market Symbols – 250 times 20 coins
Mathmandu Map Symbols – 200 times 20 coins
Ace Symbols – 150 times 20 coins
King Symbols – 120 times 20 coins
Jack and Ten Symbols – 75 times 20 coins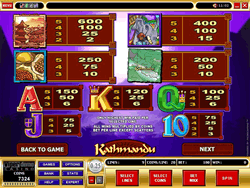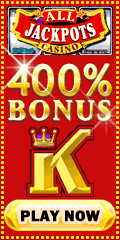 Kathmandu slots from microgaming reviewed
---