Golden Goose Winning Wizards

Golden Goose Winning Wizards Slots
Golden Goose Winning Wizards Slots Review
Golden Goose Winning Wizards is a Microgaming Multi-Line game that now offers a new feature. This great new game offers 5 reels and 20 paylines with a 10 coin per spin max bet.
Where can I play Golden Goose Winning Wizards?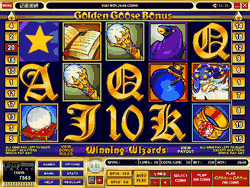 You can play Golden Goose Winning Wizards Slots at any of our Choice Microgaming Casinos:
Background to the Golden Goose Winning Wizards Slots
If you would like to participate in the new Golden Goose Bonus Feature, you can do so for only an additional 50 coins per spin. The Fantasy theme of the game really adds to its charm and makes it even more fun! Golden Goose Winning Wizards offers a Wild Symbol, a 2x Multiplier and a Scatter symbol, and 4 Bonus games that are randomly triggered when you make the additional bet. The Wizard Symbol represents the Jackpot Trigger, the Wild Symbol, and the 2x Multiplier. The Wild Symbol will act as a substitute for all reel symbols except the Scatter Symbol and it will double any and all winning combinations it creates except the Jackpot. The Crystal Ball Symbol is the Scatter Symbol and will pay out according to the game's Paytable. There are also 4 randomly awarded bonus games offered including Random Credits, a Pick X of Y game, the Money or the Egg game and the Pick a Card for a random multiplier game. The sizes for the game are One Cent, Two Cents, Five Cents, Ten Cents and Twenty Cents and the Jackpot for Golden Goose Winning Wizards is Ten Thousand Coins!
About Golden Goose Winning Wizards Slot
Theme – Fantasy
Player Demographic – All
Clone of – Winning Wizards – It's an add on
Highest Pay – 10, 000 Coins
2nd Highest Pay – 4,000 Coins
Reels – 5
Paylines – 20
Coins per Payline – 1 to 10
Max Coins – 200 for base game, 250 for Golden Goose Bonus Feature
Coin Sizes (casino sets) – $0.01, $ 0.02, $ 0.05, $ 0.10, $ 0.20
Progressive – No
Wild Symbol – Yes
Multiplier Symbol – Yes
Scatter Symbol – Yes
Feature – Yes, Golden Goose Bonus Feature
Gamble – No
Recommended Coin Size – $0.01, $ 0.02, $ 0.05, $ 0.10, $ 0.20
Default Coin Size – $0.01
No. Of Coins Allowed – 10 coins * 20 lines = 200 for base game
Default No. Of Coins – (10 coins *20 Lines) + 50 total coins for Golden Goose Bonus = 250 for Golden Goose bonus
Max Bet – $0.20 * 250 Coins (includes Golden Goose Bonus) = $50.00
Min Bet – 1 Line * 1 Coin * $0.01 = $0.01
Default Bet – ($0.01 * 20 Lines * 10 coins) + 50 Coins = $2.50
Jackpot in Coins – 10,000 Coins * 10 = 100,000 coins
Max Jackpot – 10,000 Coins * 10 Coins * $0.20 = $20,000

Golden Goose Winning Wizards slots from microgaming reviewed
---