Witches Wealth

Witches Wealth Slots
Witches Wealth Slots Review
What are you waiting for? Witches Wealth Slots is Microgaming Software's brand new game with a spooky theme that's just in time for Halloween. This fantastic new game offers Five Reels and Nine Paylines with the ability to bet up to 20 coins per line, or 180 coins per spin.
Where can I play Witches Wealth?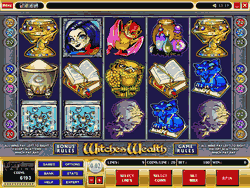 You can play Witches Wealth at any of our Choice Microgaming Casinos:
Background to the Witches Wealth Video Slot
This fun new game offers a Witch/Fantasy theme that has been depicted very well by the creative minds at Microgaming Software's development department. The symbols that were chosen for the Witches Wealth Slots game include the Wild Witch, the Scatter Bat, Mr. Twinkles (who will activate both of the 2 bonus games in Witches Wealth) , The Owl, The Books, the Potions, the Cauldron, the Golden Cup, the Jar of Eyes and the Mummy's Head. Witches Wealth Slots offers a wonderful Wild Symbol, a Scatter Symbol, and two fantastic bonus games. The coin sizes offered for Witches Wealth Slots include One Cent, Two Cents, Five Cents, Ten Cents, Twenty Cents and Twenty Five Cents and the jackpot is 6,000 coins.
About Witches Wealth Video Slot
Theme – Witch/Fantasy
Player Skill – Intermediate to Tourist
Highest Pay – 6000
2nd Highest Pay – 2000
Reels – 5
Paylines – 9
Coins Per Payline – 1 to 20
Max Coins – 180
Coin Sizes – $0.01, $0.02, $0.05, $0.10, $0.20, $0.25
Progressive – No
Wild Symbol – Yes – the Wild Witch
Multiplier Symbol – No
Scatter Symbol – Yes – the Scatter Bat
Feature – Yes – 2 Bonus Games
Gamble – No
Recommended Coin Size – $0.01, $0.02, $0.05, $0.10, $0.20, $0.25
Default Coin Size – $0.02
No. Of Coins Allowed – 9 Lines x 20 Coins = 180 coins
Default No. Of Coins – 9 Lines x 20 Coins = 180 coins
Max Bet – $0.25 x 20 Coins x 9 Lines = $45.00
Min Bet – $0.01 x 1 Coins x 1 Lines = $0.01
Default Bet – 9 Lines x 20 Coins x $0.02 = $3.60
Jackpot in Coins – Base Game 120,000 coins (Wild) + 9,000 (Scatter) = 129,000
Max Jackpot – 129,000 coins x $0.25 = 32,250.00

Witches Wealth slots from microgaming reviewed
---