Crazy Dragon

Crazy Dragon Slots
Crazy Dragon Slots Review
Crazy Dragon Slots is a three reel, one payline online Progressive Jackpot Slot Machine that was created by Real Time Gaming Software.
Recommended Slots Casino for playing Crazy Dragon Slots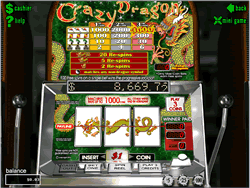 You can play Crazy Dragon Slots at any of our Choice Realtime Gaming Casinos
Crazy Dragon Slots offers both a Wild Symbol as well as a fun Bonus Feature. The game's wild symbol, the Ying Yang Symbol, will replace any symbol on the reels except for the Dragon parts. Crazy Dragon Slots offers a great bonus feature, in which each time you hit 1/3 of the Dragon, you win 2 free spins, when you hit 2/3 of the Dragon, you get 5 free spins and when you get the whole dragon on the payline, you win twenty free spins! The most important thing that you need to know about these free spins is the fact that you can earn more free spins during a free spin round, AND if you get 100 free spins during the course of a free spin round, you win the Progressive Jackpot! This feature makes the game lots more exciting, because the possibility that is always there that this could be the free spin round that wins you the fantastic Jackpot.
About Crazy Dragon Slots
Theme: Asian mystic
Player Skill Level: Experienced to Advanced
Highest Pay: Progressive Jackpot
2nd Highest Pay: 3,000 Coins
Reels: 3
Paylines: 1
Coins Per Payline: 3
Max Coins: 3
Coin Sizes: $1.00
Progressive: Yes
Wild Symbol: Yes
Multiplier Symbol: No
Scatter Symbol: No
Feature: Yes – Free Spins
Gamble: No
Recommended Coin Size: $1
Default Coin Size: $1
No. Of Coins Allowed: 1 Line x 3 Coins = 3 Coins
Default No. Of Coins: 1 Line x 3 Coins = 3 Coins
Max Bet: 1 Line x 3 Coins x 1.00 = 3.00
Min Bet: 1 Line x 3 Coins x 1.00 = 3.00
Default: Bet $1
Jackpot in Coins: Progressive
Max Jackpot: Progressive

Crazy Dragon Slots from RealTime Gaming reviewed
---