Reel Strike

Reel Strike Slots
Reel Strike Slot Review
The zing and adrenalin-pumping thrill of deep sea game fishing is the theme for the newest flagship game that offers players plenty of opportunities to boost their chances of catching big wins.
This innovative 5 reel, 15 paylines game has an added Bonus Game with Free Spins and Mystery Multipliers that slot fans will love, backed by colourful, top quality graphics, intuitive game flow and intense sound effects that enhance the interactive gaming experience.
Where can I play Reel Strike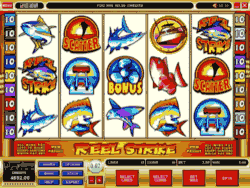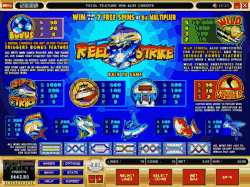 You can play Reel Strike Slots at any of our Choice Microgaming Casinos:
Background to the Reel Strike Slots
Hit those racing propellers, and you can win up to 7 Free Spins, and by choosing the right fishing boat, can significantly multiply all wins during those Free Spins by up to a 6X Multiplier.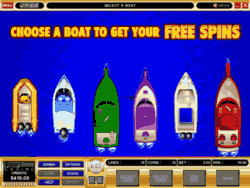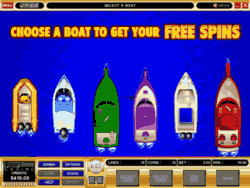 Bet up to 10 coins on each of the 15 paylines, taking the maximum wager per spin to 150 coins, and then hit the fighting chair and brace yourself for some reel action as the Wild and Scatter symbols appear, and you are presented with interactive bonus screens loaded with free opportunities that can give you the extra momentum of up to six free spins and multipliers.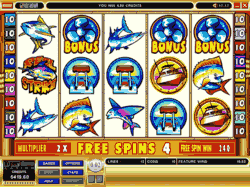 About Reel Slot Slot
Theme – Hobbies
Players – Beginner to Intermediate
Sequel of – N/A
Jackpot Value – 10 000
Reels – 5
Paylines – 15
Coins per Payline – 1 to 10
Max Coins – 150
Coin Sizes – 0.01, 0.02, 0.05, 0.10, 0.20, 0.25, 0.50
Progressive – No
Progressive Re-set Value – N/A
Wild Symbol – Yes
Bonus Trigger Symbol Symbol – Yes
Scatter Symbol – Yes
Feature – Yes, Bonus Screen and Free Spins + Multiplier
Gamble – No, either 2 times or 4 times using card suites or red and black
Recommended Coin Size – 0.01, 0.02, 0.05, 0.10, 0.20, 0.25, 0.50
Default Coin Size – 0.02 Credits
No. of Coins Allowed – 15 Lines x 10 Coins = 150 Coins
Default No. of Coins – 15 Lines x 10 Coins = 150 Coins
Max Bet – 15 Lines x 10 Coins x 0.50 = 75.00 Credits
Min Bet – 15 Lines x 1 Coin x 0.01 = 0.01 Credits
Default Bet – 15 Lines x 10 Coins x 0.02 = 3.00 credits
Jackpot – 10 000
Max Jackpot N.B – 10 000 x 10 coins x 0.50 = 50 000.00(Free Spins – 50 000.00 x 6 = 300 000.00)

Reel Strike video slot from microgaming reviewed
---