Jungle Jim

Jungle Jim Slots
Jungle Jim Slots Review
Jungle Jim Slots is an energetic and fun new game from Microgaming. This great new game has 5 reels and 15 paylines with a max bet of 10 coins per payline or 150 coins per spin!
Where can I play Jungle Jim?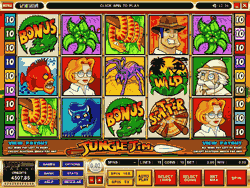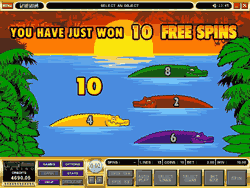 You can play Jungle Jim Slots at any of our Choice Microgaming Casinos:
Background to the Jungle Jim Slots
Jungle Jim Slots, obviously, has a Jungle theme that brings with it fun graphics and great sound effects that come together for an incredible combination! This slot machine has a Wild Symbol, a Scatter Symbol, a Bonus Free Spin Feature. When the Bonus Free Spin Feature is hit, players are given the chance to select items that will randomly determine the number of Free Spins that the player wins, and another set of items determines the Multiplier for those Free Spins. You can win up to 10 Free Spins at a time with a chance at a max of 5x Multiplier. The Wild Symbol for the game is the symbol with the Jungle Tree House Scene and Wild across the bottom, the Scatter Symbol is the Target symbol with Scatter across the bottom, and the Bonus Symbol is the Alligator with Bonus across the bottom. The regular reel symbols for the game are Jungle Jim, the explorer, the damsel, snakes, piranhas, spiders, man-eating plants, and panthers. The jackpot for Jungle Jim is $20,000 and if you hit the 5x free spins multiplier and then hit the jackpot, you can win a jackpot of $100,000!
About Jungle Jim Slot
Theme – Jungle
Player Demographic – Intermediate to Expert
Clone of – N/A
Highest Pay – 40,000 Coins (w/no Multiplier)
Reels – 5
Paylines – 15
Coins per Payline – 1 to 10
Max Lines – 15 Lines x 10 Coins = 150 Coins
Coin Sizes – $0.01, $0.02, $0.05, $0.10, $0.25, $0.50
Progressive – No
Wild Symbol – Yes
Multiplier Symbol – No
Scatter Symbol – Yes
Feature – Yes – Free Spins
Gamble – No
Recommended Coin Size – $0.01, $0.02, $0.05, $0.10, $0.25, $0.50
Default Coin Size – $0.02
No. Of Coins Allowed – 10 coins x 15 lines = 150 coins
Default No. Of Coins – 10 Coins
Max Bet – $0.50 x 10 coins per line x 15 lines = $75.00
Min Bet – $0.01 x 1 coin per line x 1 line = $0.01
Default Bet – 10 coins per line x 15 lines x $0.02 = $3.00
Jackpot in Coins – 40,000 Coins
Max Jackpo – 40,000 Coins x 10 Coins per Line x $0.50 = $20,000

Jungle Jim slots from microgaming reviewed
---