Mad Hatters

Mad Hatters Slots
Mad Hatters Slots Review
Are you set to party with the Mad Hatters and friends in this new exciting 5 reel by 30 pay-line game for your entertaining pleasure? A tea party with a difference, where with a little luck you can have your cake and eat it with Mad Hatters slots. It's a game build around several unique "firsts" for online gaming. First, look out for the scatter Cuckoo Clocks where 3, 4 or 5 on adjacent reels will activate an on-screen bonus feature with a choice of up to three out of five Cuckoos which have hidden values that ultimately add to your pay-line. Three or more March Hares in the Hat, also a scatter feature, activates your free spin feature where you can be rewarded with anything from 10 to 50 free spins. All scatter wins are multiplied by your total bet during normal play, but are multiplied by two within the free spin feature. The big red Mad Hat is another symbol you'll welcome, because its substitute powers can bring you up to 200 000 Coins, and together with your Extra Wild that you get to choose in the spin feature only, which expands to incorporate all payline wins, you could be laughing your head off.
Where can I play Mad Hatters?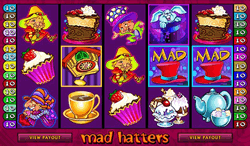 You can play Mad Hatters at any of our Choice Microgaming Casinos
Background to the Mad Hatters slots
The Mad Hatter is synonymous with Alice in Wonderland, and depicts a little mad character with a large hat running around. The name Mad Hatter originates from as far back as the 1800's. The illness was caused through poisoning by means of the chemicals that were used in order to cure pelts, which would through time penetrate the skin of the person wearing the hat. The only pelt that was clear of these chemicals as the fur did not need curing, but was very difficult to acquire was Beaver. However, let's not poison your mind, just log in, put your feet up and enjoy this fun filled video slot game with awesome rewards.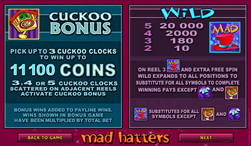 About Mad Hatters Slots
Reels – 5 Reels
Paylines – 30 Paylines
Coin Sizes – 0.01, 0.02, 0.05, 0.10, 0.20, 0.25
Coins per Payline – 1 to 10
Highest Pay – 200 000 coins
Maximum Jackpot – 20 000 coins x 10 coins per line = 200 000 coins in base game, 30 lines x 10 coins per line x 37 = 11 100 coins in bonus game, and 20 000 coins x 10 coins per line x 2 multipliers = 400 000 coins in Free spin game.
Wild Symbol – Yes (Two different symbols)
Scatter symbol – Yes (Two different symbols)
Free Spins – Yes
Bonus Spins – Yes
Feature – Yes (Two features)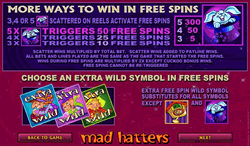 Payscreen Symbols for Mad Hatters Slots
Free Range Bonus Egg Scatters – 15 000 times 10 coins x 5 times multiplier
Roger Rooster Wild – 15 000 times 10 coins
Relaxing Henrietta – 750 times 10 coins
Henrietta's Henhouse – 600 times 10 coins
Chicken Fountain – 500 times 10 coins
RR Smoking Pipe – 400 times 10 coins
Champagne and Glasses – 200 times 10 coins
Silver Bowl of Fruit – 100 times 10 coins
Henhouse Magazine Scatters – 100 times 10 coins
Chocolate Corn on the Cob – 75 times 10 coins
Plate with Banana, Apple and Orange – 50 times 10 coins
Whipped Cream – 30 times 10 coins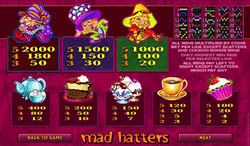 Summary of Mad Hatters Slots
The action on this dynamic and extremely compelling new game in the Mad Hatters Tea Party theme, presents sharp and brightly colored graphics and animation that introduces weirdly garbed guests, scrumptious pastries, teas and mysterious mad figures.

Mad Hatters slots from microgaming reviewed
---