Harveys

Harveys Slots
Harveys Slots Review
Looking for a quiet up market Restaurant to celebrate a special occasion, well look no further than Harveys. To start the evening off, chilled Champagne will be served while you wait to be seated, and of course also throughout your evening. Once seated, Mr. Harvey the Owner will offer the first dish of the evening, Escargot. As time is not of the essence here, you may take as much as you need before Mr. Harvey presents his main dish, Lobster. Because Mr. Harvey does not want to rush you, he has the Deserts set out in a help yourself, when you are ready fashion, placed on the side for your convenience. Even if you are not a sweet toothed person, you will not pass up the opportunity to taste his Crème Brule or Blueberry Pie. No bills are presented, instead you will receive Mr. Harveys home made After Dinner Mints to round the evening off. This is no deal to be ignored, book your place in that comfy chair at home and enjoy.
Where can I play Harveys Slots?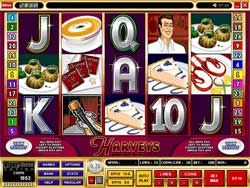 You can play Harveys Slots at any of our Choice Microgaming Casinos:
Background to the Harveys Slots
Mr. Harvey the restaurant owner plays a major roll is his business. He will substitute for all symbols other than the scatter symbol on any payline bet. Popping Champagne corks appearing on reels 2 and 4 only, will set your Bonus Feature in motion where you could be rewarded with 6 – 30 free spins. During the free spin feature, each payline win will be multiplied by the Mystery Multiplier up to as much as 25 times. All winning combinations during the free spin feature will be added and displayed to you at the conclusion of that feature on a separate screen. With 2 or more Scattered After Dinner Mints, your total payline win will be doubled. Should you wish to double or even quadruple your win to a maximum of 10,000 coins, there is also a Gamble Feature where you get to choose either a Colour or Suit of cards.
About Harveys Slot
Reels – 5
Paylines – 25
Coin Sizes (discretion per casino) – 0.01, 0.02, 0.05, 0.10, 0.20
Coins Per Payline – 1 to 20
Highest Pay – $8 000 in main game. Up to $200 000 (25 times multiplier) during the free spins round.
Maximum Jackpot Coins – 40 000 Coins in main game. Up to 1 000 000 Coins (25 times multiplier) during the free spins round.
Wild Symbol – Yes
Multiplier Symbol – No
Scatter Symbol – Yes
Feature – Yes – Free spins with a random multiplier
Gamble – Yes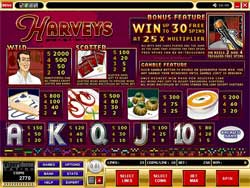 Payscreen Symbols for Harveys Slot
Harveys Wild Symbols – 2000 times 20 coins
Scatter Mints Symbols – 100 times 20 coins
Blueberry Pie Symbols – 800 times 20 coins
Lobster Symbols – 500 times 20 coins
Escargot Symbols – 300 times 5 coins
Crème Brule Symbols – 200 times 5 coins
Popping Champaign Cork Symbols – On Reels 2 and 4 triggers free spins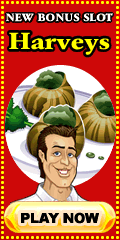 Harveys slots from microgaming reviewed
---