Operation MYOW

Operation MYOW Slots – Real Series Slot
Operation MYOW Slots Review
Operation MYOW Slots is a very unique RTG Slot. It offers three reels and one payline and a three coin max bet per spin. The theme of this great game is Cats.
Recommended Slots Casino for playing Operation MYOW Slots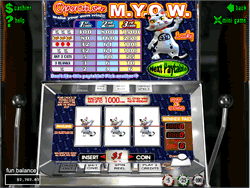 You can play Operation MYOW Slots at any of our Choice Realtime Gaming Casinos:
Operation MYOW, which stands for Make Your Own Win, is a very unique game in that it offers a total of five paytables. Each of these paytables have a different name and lucky color and you can switch between them at any time. The paytables' names and lucky colors are as follows : Lucky who's lucky color is White, Catman who's lucky color is Purple, Kung Fu Kitty who's lucky color is Yellow, Catzilla who's lucky color is Green, and The King who's lucky color is Pink. All of these paytables have their own payouts, while the reels themselves don't actually change. The reel symbols for the game include Lucky, Catman, Kung Fu Kitty, Catzilla, The King, Dragons, Flowers, Koi Fish and a few others. In order to win the max jackpot available for the game, which is 5,000 coins, you must be playing the Catzilla paytable, betting the max bet, and hit three Catzilla symbols on the payline. The coin sizes available for Operation MYOW are Five Cents, Twenty Five Cents, Fifty Cents, One Dollar and Five Dollars.
About Operation MYOW Slots
Theme: Cats
Player Demographic: Intermediate to experienced
Highest Pay: 5000 Coins
2nd Highest Pay: 3200 Coins
Reels: 3
Paylines: 1
Coins Per Payline: 1 to 3
Max Coins: 3
Coin Sizes: $0.05, $0.25, $0.50, $1.00, $5.00
Progressive: No
Wild Symbol: No
Multiplier Symbol: No
Scatter Symbol: No
Feature: No
Gamble: No
Recommended Coin Size: $0.05, $0.25, $0.50, $1.00, $5.00
Default Coin Size: $0.50
No. Of Coins Allowed: 1 Line x 3 Coins = 3 Coins
Default No. Of Coins: 1 Line x 3 Coins = 3 Coins
Max Bet: 1 Line x 3 Coins x 5.00 = 15.00
Min Bet: 1 Line x 1 Coin x 0.05 = 0.05
Default Bet: 1 Line x 1 Coin x 0.50 = 0.50
Jackpot in Coins: 5,000 Coins
Max Jackpot: 5000 x 5.00 = 25,000

Operation MYOW Slots from RealTime Gaming reviewed
---