Major Millions

Major Millions Progressive Video Slot sequel
Major Millions Sequel Review
If you're a Major Millions big win progressive fan, the latest version of this hugely popular game will have you polishing your medals for some serious action! The three reel format of the Microgaming powered progressive has been extensively upgraded to an exciting five reel video slot platform that offers players 15 paylines for a maximum bet of $3. Instead of the original game's three paylines, you'll have fifteen chances to pull The Big One in Internet gambling that has already created three instant millionaires and hundreds of other significant winners.
The look, digital quality sounds and feel of Major Millions will be familiar, but there's a bigger thrill factor that includes a x3 wild multiplier to add to the excitement, and players can deposit up to fifteen 20 cent coins for maximum returns when the main target is hit and those five grinning Major logos appear in the right place and change your life.
For those who prefer the original three reel Major Millions, this original version of the game will remain in service. The new 5 Reel video slot Major Millions will play to the same Jackpot Madness progressive network, giving players the opportunity to choose which game they feel will best show them the way to the big money.
Where can I play Major Millions?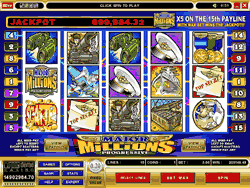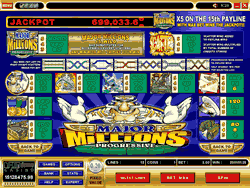 The Current value of the Major Millions progressive jackpot slot is:
You can play Major Millions Slots at any of our Choice Microgaming Casinos:
Background on Major Millions Video Slot
Major Millions Video Slot is a sequel game to the successful Major Millions Reel slot game. Graphically this game has remained true to the Major Millions Reel slot but the game has now been elevated to the 5 Reel Video Slot Platform, with not 1, but 15 paylines.
The 3 Reel and 5 Reel Major Millions games will play to the same Progressive, giving players the opportunity to choose which game they feel will give them the lucky edge they need win the Progressive Jackpot.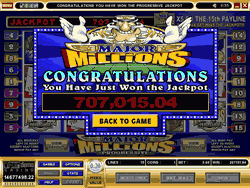 Major Millions progressive video slot from microgaming reviewed
---