Bar Bar Blacksheep

Bar Bar Blacksheep
Bar Bar Blacksheep review
Bar Bar Blacksheep is a humorous take of the popular childhood nursery rhyme, with the top jackpot win happening when the name of the game is graphically represented on the pay line. The Blacksheep symbol is Wild and when substituting in a win acts as a 3X multiplier.
Where can I play Bar Bar Blacksheep?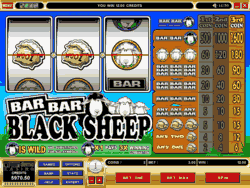 You can play Bar Bar Blacksheep at any of our Choice Microgaming Casinos:
Background to the Bar Bar Blacksheep
Allied with the advanced Viper software, a well proven favourite like this becomes a very current and enjoyable player experience, with sharp modern graphics, digital quality sound and a significantly rewarding multiplier feature. The Bar Bar Blacksheep theme is based on the traditional nursery rhyme familiar to most players, and this has been amusingly presented with the added attraction of a Wild multiplier symbol in the shape of a mild blacksheep's face that looks anything but Wild!
But get one of these contented symbols and the excitement starts, because winnings are tripled by the multiplier feature except on jackpot combinations. This is an innovative approach, and is the first time a 3x multiplier is being used for 1 Wild substitution.
The top jackpot on Bar Bar Blacksheep is 1 600 coins, achieved when the name of the game is graphically presented on the single payline – Bar, another Bar and the 'Wild' blacksheep's face symbol as a combination. On a maximum bet using the 5.00 denomination, that 1 600 coins translates into a useful and tempting jackpot of 8 000 credits.
Try Bar Bar Blacksheep, it's shear gambling pleasure!
About Bar Bar Blacksheep
Theme: Animals
Player Demographic: Experienced to Expert Players
Clone of: NA
Highest Pay: 1,600 coins
2nd Highest Pay: 1,000 coins
Reels: 3
Paylines: 1
Coins Per Payline: 3
Max Coins: 3
Coin Sizes: 0.05, 0.10, 0.20, 0.25, 0.50, 1.00, 2.00, 5.00
Progressive: No
Wild Symbol: Yes
Multiplier Symbol: Yes
Scatter Symbol: No
Feature: No
Gamble: No

Bar Bar Blacksheep Reel slot from microgaming reviewed
---