Jazz Time

Jazz Time Slots – Real Series Slot
Jazz Time Slots Review
Jazz Time Slots is a wonderful Multi-Line Online Slot Machine that was designed by Real Time Gaming. It is one of their games that offer 5 reels and 9 paylines as well as a five coin per line, making a 45 coin per spin, maximum bet.
Recommended Slots Casino for playing Jazz Time Slots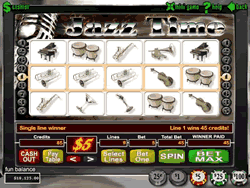 You can play Jazz Time Slots at any of our Choice Realtime Gaming Casinos:
The theme of Jazz Time Slots is, as implied by the name, Jazz. Real Time Gaming has done an awesome job with the graphics and sound effects for this game. The symbols created for this game include Microphones, Trumpets, Guitars, Saxophones, Trombones, Bongos, and Basses. Jazz Time Slots also has a Scatter Feature. When you hit a Cymbal, a Snare Drum and a Pair of Drumsticks anywhere on the reels (as long as you are betting the max bet), you will get a random amount of coins that can be as much as 350 coins. If you hit 3 Pianos (while betting max bet), you have the opportunity to win up to 4,000 coins with the Jazz Jam Bonus.
About Jazz Time Slots
Theme: Jazz
Player Skill Level: Intermediate to Advanced
Highest Pay: 10,000 Coins
2nd Highest Pay: 2,500 Coins
Reels: 5
Paylines: 9
Coins Per Payline: 1 to 45
Max Coins: 45
Coin Sizes: $0.01, $0.05, $0.25, $0.50, $1.00, and
$5.00
Progressive: No
Wild Symbol: No
Multiplier Symbol: No
Scatter Symbol: Yes
Feature: Yes – Jazz Bonus
Gamble: No
Recommended Coin Size: $0.01, $0.05, $0.25, $0.50,
$1.00, and $5.00
Default Coin Size: $0.25
No. Of Coins Allowed: 9 Lines x 5 Coins = 45 Coins
Default No. Of Coins: 9 Lines x 5 Coins = 45 Coins
Max Bet: 9 Line: x 5 Coins x $5.00 = $225.00
Min Bet: 1 Line x 1 Coin x $0.01 = $0.01
Default Bet: 9 Lines x 5 Coins x $0.25 = $11.25
Jackpot in Coins: 10,000 Coins
Max Jackpot: 10,000 Coins x $5.00 = $50,000

Jazz Time Slots from RealTime Gaming reviewed
---