Isis

Isis Slots
Isis Slots Review
Isis, at a comparatively early period in Egyptian history, absorbed the attributes of all the great primitive goddesses, as she was identified as the female counterpart of the primeval abyss of water from which sprang all life. From what has been said, it is manifestly impossible to limit the attributes of Isis, for we have seen that she possesses the powers of a water goddess, an earth goddess, a corn goddess, a star goddess, a queen of the Underworld, and a woman, and that she united in herself one or more of the attributes of all the goddesses of Egypt known to us. Reward yourself in knowledge and dividends as you spin the reels of this Egyptian themes Video Slot Game, which is proudly presented by Microgaming.
Where can I play Isis?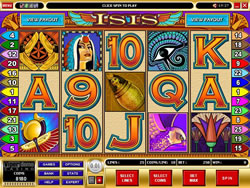 You can play Isis Slots at any of our Choice Microgaming Casinos:
Background to the Isis Slots
Isis as the Goddess of the Sky, Earth and Water will become the goddess of your game as she substitutes for every symbol except the scatter symbol and adds to your winning bet by doubling your winning combination. The Vulture, who they say depicts a goddess, will start your spinning feature should three or more appear on a on your screen. You could be rewarded with up to 30 free spins which could during the game be re-triggered. take it all or take a chance in the Gamble feature when making a choice of either a color or suite of cards, you could land up doubling or quadrupling your winning combination.
About Isis Slot
Reels – 5
Paylines – 25
Coin Sizes (casino sets) – 0.01, 0.02, 0.05, 0.10, 0.20, 0.25
Coins Per Payline – 1 to 20
Highest Pay – 100 000 Coins
Maximum Jackpot – 100 000 coins for 5 wild symbols (10 000 x 10 coins). Grow this to 600 000 coins if you hit this during free spin play with up to a 6 times multiplier!
Progressive – No
Wild Symbol – Yes
Multiplier Symbol – Yes
Scatter Symbol – Yes
Feature – Yes – Free Spin Feature
Gamble – Yes, either 2 times or 4 times using card suites or red and black (Until gamble limit has been reached)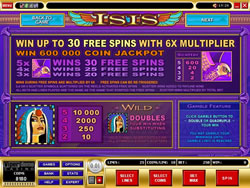 Payscreen Symbols for Isis
Isis Wild Symbols – 10 000 times 10 coins (win up to 600 000 in free spin feature with 6 times multiplier)
Vulture Scatter Symbols – 600 times 10 coins
Eye of Horus Symbols – 2000 times 10 coins
Sun Scepter – 1750 times 20 coins
Wheel of the Year Symbols – 1500 times 10 coins
Tomb Symbols – 1250 times 10 coins
Papyrus Symbols – 1000 times 10 coins
Ace Symbols – 500 times 10 coins
King Symbols – 250 times 10 coins
Queen Symbols – 150 times 10 coins
Jack Symbols – 100 times 10 coins
Ten Symbol – 75 times 10 coins
Nine Symbol – 50 times 10 coins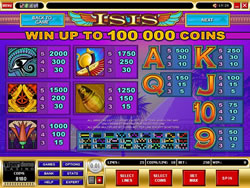 Isis slots from microgaming reviewed
---