Bank on it

Bank on It Slots
Bank on It Slots Review
Bank On It Slots is a Classic Slots lover's dream, and will easily find itself at the top of your "Must Play" list the moment you start playing. It offers three reels and one payline with a three coin max bet per spin.
Recommended Slots Casino for playing Bank on It Slots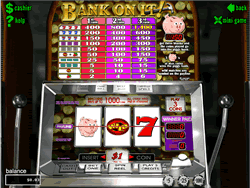 You can play Bank on It Slots at any of our Choice Realtime Gaming Casinos
The theme of the game is Money, which ties in very well with the title of the game! Bank On It Slots features a wonderful bonus for hitting 3 blank reels on the payline. Each time this happens, an amount equal to your current bet is added to the Piggy Bank Meter. These credits keep adding up until you hit three Piggy Bank Symbols in a row on the payline. Each time that you hit three Piggy Banks, you will win all of the coins that have been adding up in the Piggy Bank Meter, and the game automatically resets the meter to 150 coins. There is a Wild Symbol in the game (the symbol for which is the word "Wild") will replace all of the symbols of the board with the exception of the Piggy Bank. The coin sizes for this game are Five cents, Twenty Five Cents, Fifty Cents, One Dollar, and Five Dollars.
About Bank on It Slots
Theme Money
Player Demographic Tourist to Intermediate
Highest Pay Progressive
2nd Highest Pay 800 Coins
Reels 3
Paylines 1
Coins Per Payline 1 to 3
Max Coins 1 Line x 3 Coins = 3 Coins
Coin Sizes $0.05, $ 0.25, $0.50, $1.00, $5.00
Progressive Yes
Wild Symbol Yes
Multiplier Symbol No
Scatter Symbol No
Feature No
Gamble No
Recommended Coin Size $0.05, $ 0.25, $0.50, $1.00, $5.00
Default Coin Size $0.05
No. Of Coins Allowed 1 Line x 3 Coins = 3 Coins
Default No. Of Coins 1 Line x 3 Coins = 3 Coins
Max Bet 1 Line x 3 Coins x 5.00 = 15.00
Min Bet 1 Line x 1 Coin x 0.05 = 0.05
Default Bet 1 Line x 1 Coin x 0.05 = 0.05
Jackpot in Coins Progressive
Max Jackpot Progressive

Bank on It Slots from RealTime Gaming reviewed
---