Dino Might

Dino Might Slots
Dino Might Slots Review
In the classics, they say that Dynomite comes in small packages, well here is proof of just that. We bring to you this small package with great payout features. There is nothing more rewarding than looking back in time gone by, and seeing the wonders of the world that have passed. Today you can make the difference by bringing back to life, the pre-historic creatures that roamed our land before the ice age, and this with just one spin of the reel. Dino Might is a new Microgaming video slot game played over 5 reels x 25 paylines, featuring Dinasaurs, fossils,insects and some wonderful looking plant life. The game offers three payout features, two of which you get to choose your fate.
Where can I play Dino Might Slots?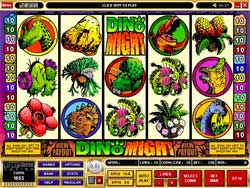 You can play Elementals Slots at any of our Choice Microgaming Casinos:
Three or more Triggersaurus symbols activates the Reel Bonus. This feature will comes up in a new screen where the Triggersaurus will be highlighted. You will choose any one of the highlighted symbols which will reveal your bonus. This bonus is added to your payline win and multiplied by the line bet.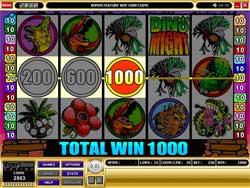 Three or more Amber embedded insects will trigger the Match Bonus feature. This feature will also be revealed in a new screen, where you will be given 21 panels to choose from. You have to select from these panels until you have 4 matching blocks to complete the feature. Beneath one of the panels, there is a hidden multiplier. Your wins are added to the payline win, and then multiplied by the multiplier bonus if revealed. Last but not least, there is the ever so popular substitute feature. This feature as always will continue to roll over your reels and keep the credits turning. Dino Might can be played with a minimum stake of 1 coin per payline, or a maximum stake of 10 coins per payline.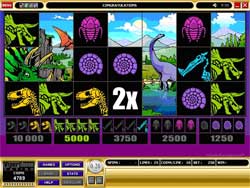 About Dino Might Video Slot
Reels – 5
Paylines – 25
Coin Sizes (casino sets) – 0.01, 0.02, 0.05, 0.10, 0.20, 0.25, 0.50
Coins per Payline – 1 to 10
Highest Pay – 80 000 coins
Bonus Screen – 10 000 coins multiplied by a multiplier of 2 making 20 000 coins
Progressive – No
Wild Symbol – Yes
Bonus Symbol – Yes – 2 bonus triggers
Multiplier Symbol – Yes
Scatter Symbol – Yes
Feature – Yes – Bonus Screen with Pick 1, 2, of 3 of 3, 4, or 5 objects
Feature – Yes – Bonus Screen with Pick until 4 of 21 objects are matched
Gamble – No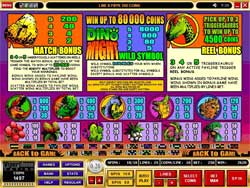 Payscreen Symbols for Dino Might
All values at maximum coins across all paylines
Dino Might Wild Symbols – 80 000 coins
Triggersaurus Symbols – Pick up to 3 of them. Maximum win 4 500 coins
Fossil Symbols – 2 000 coins and bonus trigger. Win up to 20 000 coins
T Rex Dinosaur Symbols – 8000 coins
Triceratops (3 horned) Dinosaur Symbols – 4000 coins
Plant Eating Dinosaur Symbols – 3000 coins
Green Horned Dinosaur Symbols – 2000 coins
Spikey Headed Dinosaur Symbols – 1200 coins
6 different Dinosaur Era Plant Symbols – From 500 up to 1000 coins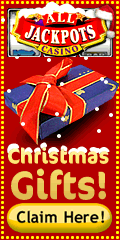 Dino Might slots from microgaming reviewed
---