Bonkers

Bonkers Slots
Bonkers Slots Review
Bonkers Slots is a classic three reel, one payline Progressive Online Slot Machine. This game provides a max per spin bet of three coins and the coin sizes range from five cents up to five dollars.
Recommended Slots Casino for playing Bonkers Slots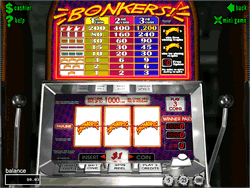 You can play Bonkers Slots at any of our Choice Realtime Gaming Casinos
Bonkers Slots has a bonus feature that uses the "Bonkers" symbol. Each time you hit two "Bonkers" symbols, you win 3 free winning spins, and when you hit three "Bonkers" symbols on the payline, you win a guaranteed 10 free winning spins! Your free spins are always tallied for you on the meter on the right side of the game so that you know how many are left all the time. There are two conditions applied to the Bonkers Slots bonus round. First, you cannot accumulate additional free spins while using your free spins and the second condition is that hitting three of the Red 7 symbols will end the free spin round and return you to normal game play.
About Bonkers Slots
Theme: Classic 3 Reel
Player Skills: Easy to moderate
Highest Pay: Progressive (when betting under $5) or 1200 coins
2nd Highest Pay: 400 Coins
Reels: 3
Paylines: 1
Coins Per Payline: 3
Max Coins: 3
Coin Sizes: $0.05, $0.25, $0.50, $1.00, $5.00
Progressive: Yes – when betting under $5
Wild Symbol: No
Multiplier Symbol: No
Scatter Symbol: No
Feature: Yes – Free Spins
Gamble: No
Recommended Coin Size: $0.05, $0.25, $0.50, $1.00, $5.00
Default Coin Size: $1.00
No. Of Coins Allowed: 1 Line x 3 Coins = 3 Coins
Default No. Of Coins: 1 Line x 3 Coins = 3 Coins
Max Bet: 1 Line x 3 Coins x 5.00 = 15.00
Min Bet: 1 Line x 3 Coins x 0.05 = 0.15
Default Bet: 1 Line x 3 Coins x 1.00 = 3.00
Jackpot in Coins: Progressive or 1,200
Max Jackpot: Progressive or 1,200 x 5.00 = $6,000

Bonkers Slots from RealTime Gaming reviewed
---