Legacy

Legacy Slots
Legacy Slots Review
Legacy is classic 3 reel x 5 payline slot with sophistication and class. It is said that dynamite comes in small packages and this Legacy slot is loaded. The Wild Logo could either double or quadruple your winning combination or you could yield a jackpot amount of 2 400 coins. This Legacy of this game will continue for as long as you are willing to play the game.
Where can I play Legacy?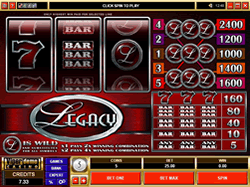 Background to the Legacy slots
A Legacy is something that has been built up by one or many persons. A legacy can come in the form of a heirloom, inheritance, birthright and even a heritage to the benefit of others. In the very recent passed, a legacy was left to the World as a whole and in particular to Conservationists world wide with the untimely death of Steve Irwin. Financial Legacy's are normally left within a family environment such as with persons who have built an empire of some description.
About Legacy Slots
Theme Cash Theme
Reels Three
Paylines Five
Coin Sizes 1,00; 2,00; 5,00; 10,00; 25,00
Highest Pay 2,400 x 1 coin per payline x 25,00 = 60,000 coins
Wild Symbol Yes
Sevens 160 x 3 symbols x 1 coin
Three Bars 80 x 3 symbols x 1 coin
Two Bars 40 x 3 symbols x 1 coin
One Bar 10 x 3 symbols x 1 coin
Any Bars 5 x 3 symbols x 1 coin
Wild Logo 1000 x 3 symbols x 1 coin on line one
Wild Logo 1200 x 3 symbols x 1 coin on line two
Wild Logo 1400 x 3 symbols x 1 coin on line three
Wild Logo 1600 x 3 symbols x 1 coin on line four
Wild Logo 2400 x 3 symbols x 1 coin on line five
Summary of Legacy Slots
Legacy is a very simple, neat and action filled Video Slot offering great winning combinations across Three reels x Five paylines.

Legacy slots from microgaming reviewed
---