Fruit Fiesta

Fruit Fiestal
Fruit Fiesta Slot Review
Introducing a new variation on another tried and trusted progressive favourite, Microgaming offers Fruit Fiesta Progressive Video Slot as a sequel to the 3 reel slot version of a game that has enjoyed massive popularity across all demographics over several years of operational life.
Fruit Fiesta Video Slot stays with the same winning presentation formula, but has been escalated to a 5 reel, 15 line platform with a wild multiplier and scatter symbol. Fresh and vibrant graphics add greater appeal to the game.
Where can I play Fruit Fiesta?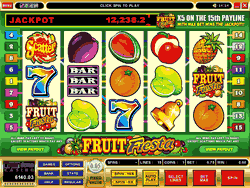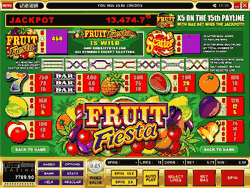 The Current value of the Fruit Fiesta progressive jackpot slot is:
You can play Fruit Fiesta Slots at any of our Choice Microgaming Casinos:
The original 3 reel and the new 5 reel will link to the same progressive network, offering players more choice. This is a game that has a wide appeal to all players, giving it considerable potential. Because it is a trusted and strongly-branded progressive through the Jackpot Madness network, the top jackpot prize offers very high win values, with even the second highest payouts attractive at 9 000 coins. Wagers are taken at one 5 cent coin per payline, giving a maximum of 15 coins or $0.75 per spin. Fruit Fiesta Progressive Video Slot is one of Microgaming's linked progressives, bringing the excitement and variety of three and five reel video games together, all through the same reputable and highly funded progressive network.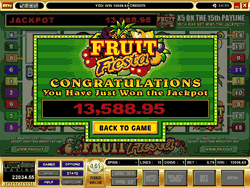 About Fruit Fiesta Slot
Theme – Generic / Fruit
Sequel of – Fruit Fiesta Reel Slot
Jackpot Value (casino sets) – Progressive
2 nd Highest Pay – 9,000 coins
Reels – 5
Paylines – 15
Coins per Payline – 1
Max Coins – 15
Coin Sizes – 0.05 credits
Progressive – Yes
Wild Symbol – Yes
Multiplier Symbol – No
Scatter Symbol – Yes
Feature – No
Gamble – No
Coin Size – 0.05 credits
Default Coin Size – 0.05 credits
No. of Coins Allowed – 15 coins
Default No. of Coins – 15 coins
Max Bet – 0.05 credit coin size x 1 coin x 15 lines = 0.75 credits
Min Bet – 0.05 credit coin size x 1 coin x 1 line = 0.05 credits
Default Bet – 400 times 10 coins
Ace Symbols – 0.05 credit coin size x 1 coin x 15 lines = 0.75 credits

Fruit Fiesta progressive video slot from microgaming reviewed
---