Bush Telegraph

Bush Telegraph Slots
Bush Telegraph Slots Review
Bush Telegraph Slots is a new multi line slot machine to be released by Microgaming Software. The game has five reels and fifteen paylines with a five coin per line or seventy five coin per spin max bet.
Where can I play Bush Telegraph?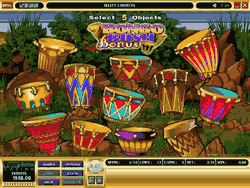 You can play Bush Telegraph Slots at any of our Choice Microgaming Casinos:
Background to the Bush Telegraph Slots
This unbelievable new game offers an African theme, and this theme is well represented by the wonderful graphics and the great sound effects. Bush Telegraph Slots has a Wild Symbol, A Scatter Symbol, A Bonus Round and A Gamble Round. It does not, however, offer a Progressive Jackpot, or a Multiplier Symbol. The coin sizes offered for the game are One Cent, Two Cents, Five Cents, Ten Cents, Twenty Five Cents, Fifty Cents and One Dollar. Bush Telegraph Slots is Microgaming Software's most incredible new games and will certainly become a fast favorite.
Bush Telegraph Avalon Slot
Theme – African
Player Demographic – Tourist to Experienced
Highest Pay – 7500 coins
2nd Highest Pay – 2000 coins
Reels – 5
Paylines – 15
Coins per Payline – 1 to 5
Max Coins – 75
Coin Sizes – $0.01, $0.02, $0.05, $0.10, $0.25, $0.50, $1.00
Progressive – No
Wild Symbol – Yes
Multiplier Symbol – No
Scatter Symbol – Yes
Feature – Yes
Gamble – Yes
Recommended Coin Size – $0.01, $0.02, $0.05, $0.10, $0.25, $0.50, $1.00
Default Coin Size – $0.05
No. Of Coins Allowed – 15 lines x 5 coins = 75 coins
Default No. Of Coins – 15 lines x 5 coins = 75 coins
Max Bet – 1.00 x 5 coins x 15 lines = 75.00
Min Bet – 0.01 x 1coin x 1 line = 0.01
Default Bet – 15 lines x 5 coins x 0.05 = 3.75
Jackpot in Coins – Base Game: 7 500 coins x 5 coins = 37 500 coins
Free Spins – 37,500 x 3x Multiplier = 112 500 coins
Max Jackpot – ase Game: 7 500 coins x 1.00 x 5 coins = 37 500.00
Free Spin: 37,500.00 x 3x Multiplier = 112,500.00

Bush Telegraph slots from microgaming
---