LotsaLoot

Lotsaloot
Lotsaloot Review
In keeping with Microgaming's ongoing policy of regular game renewal and refreshment the popular Lotsaloot progressive slot has been upgraded to a vibrant 5 reel video variation that will appeal to a wide player demographic.
Players will feel comfortable with the familiar sharp and colorful graphics of this game that remain true to the popular Lotsaloot reel slot, but the game has now been elevated to the 5 Reel video slot platform, with a bumper 25 paylines.
Where can I play Lotsaloot?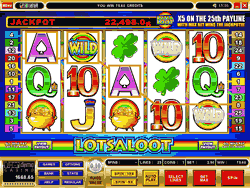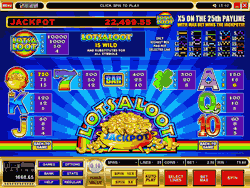 The Current value of the Lotsaloot progressive jackpot slot is:
You can play Lotsaloot Video Slots at any of our Choice Microgaming Casinos:
Background to the Lotsaloot Slots
The Lotsaloot symbol is still Wild, with 5 of them on the 25th payline rewarding the lucky player with a network-wide progressive jackpot. There are far more ways to win with this game than with its predecessor, and the additional 20 paylines ensures that the new Lotsaloot has one of the highest hit rates in the Microgaming video slot range.
Research has shown that the original 3 reel version of Lotsaloot is well liked by players, and the game will therefore continue to run to the same Jackpot Madness progressive as its more advanced 5 reel video version. This will give players freedom of choice regarding which game they feel might give them the best edge to win the jackpot. Aside from the progressive jackpot, the second highest payout on this exciting game is 10 000 coins.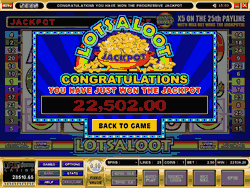 About Avalon Slot
Theme – Generic / Cash
Sequel of – Lotsaloot Reel Slot
Jackpot Value – Progressive
2 nd Highest Pay – 10,000 coins
Reels – 5
Paylines – 25
Coins per Payline – 1 to 10
Max Coins – 25
Coin Sizes – 0.10
Progressive – Yes
Wild Symbol – Yes
Multiplier Symbol – No
Scatter Symbol – No
Feature – No
Gamble – No
Coin Size – 0.10 credits
Default Coin Size – 0.10 credits
No. of Coins Allowed – 25 coins
Default No. of Coins – 25 coins
Max Bet – 0.10 credit coin size x 1 coin x 25 lines = 2.50 credits
Min Bet – 0.10 credit coin size x 1 coin x 1 line = 0.10 credits
Default Bet – 0.10 credit coin size x 1 coin x 25 lines = 2.50 credits

Lotsaloot progressive video slot from microgaming reviewed
---