Card Shark

Card Shark Slots
Card Shark Slots Review
Card Shark Slots is a Progressive Multi-Line Online Slot Machine that is the ingenious brainchild of Real Time Gaming. It is a five reel, nine payline online slot machine with a five coin per line max bet which means a max forty five coins per spin.
Recommended Slots Casino for playing Card Shark Slots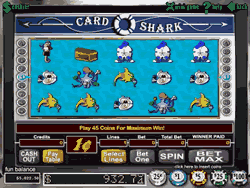 You can play Card Shark Slots at any of our Choice Realtime Gaming Casinos
Card Shark Slots Theme is "Under the Sea" and is well illustrated by the graphics and sound effects that were created for the game. The reel symbols in Card Shark Slots include Starfish, Seahorses, Sand Dollars, Octopuses, Rainbow Fish and Oysters. Card Shark Slots provides a great bonus round as well. Each time you hit three Card Sharks on any active reels, you will enter the bonus round. Once on the bonus screen, you are asked to decide if the next card will be higher or lower than the first card shown. Card Shark Slots also offers a scatter bonus where if you hit three treasure chests, you will win a random bonus. To win the Progressive Jackpot, you must first bet betting max coins per spin and then you have to hit 5 Starfish.
About Card Shark Slots
Theme: Under The Sea
Player Skills: Intermediate to Advanced
Highest Pay: Progressive
2nd Highest Pay: 1,800 Coins
Reels: 5
Paylines: 9
Coins Per Payline: 1 to 5
Max Coins: 45
Coin Sizes: $0.01
Progressive: Yes
Wild Symbol: No
Multiplier Symbol: No
Scatter Symbol: Yes
Feature: Yes – High/Low Card Shark Bonus
Gamble: No
Recommended Coin Size: $0.01
Default Coin Size: $0.01
No. Of Coins Allowed: 9 Lines x 5 Coins = 45 Coins
Default No. Of Coins: 9 Lines x 1 Coin = 9 Coins
Max Bet: 9 Lines x 5 Coins x $0.01 = $0.45
Min Bet: 9 Lines x 1 Coin x $0.01 = $0.09
Default Bet: 9 Lines x 1 Coin x $0.01 = $0.09
Jackpot in Coins: Progressive
Max Jackpot: Progressive

Card Shark Slots from RealTime Gaming reviewed
---