Gift Wrap

Gift Wrap Slots
Gift Wrap Slots

Review

You do not
have to wait until Christmas to open this Gift.
Compliments of Microgaming, we bring to your screen
this colourful animated video slot game with Christmas
cheer and all. No gift wrap paper lying around,
no toys to fall over, no messy Snow to wipe up.
You will however have all these goodies at your
finger tips with just one spin of the reel. Gift
Rap is a 5 reel x 25 payline video slot game, and
can be played with a minimum of 1 coin per payline
to a maximum of 10 coins per payline. So come along,
give this game a go, and you will see you have nothing
to loose, but a great deal of fun, cheer and maybe
a little extra cash in the pocket to gain. The recommended
minimum wager on this game would be 1 coin per payline,
and the maximum wager that could be played is 10
coins per payline.
Where can I
play Gift Wrap?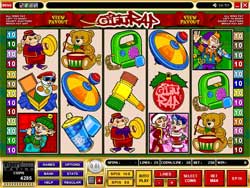 You can play
Gift Wrap at any of our Choice Microgaming Casinos



There are three features to this game. First you
have the Gift Rap Bauble, this is a wild symbol
and substitutes for all symbols other than Mr. Jack
Frost and your Spray can of Snow. Two or more Baubles
will also multiply your payline bet staked. Secondly,
to avoid the mess inside, we give to you Snow in
a can. As a scatter feature, three or more of these
symbols will multiply all your payline wins by the
amount staked. Thirdly, Microgaming put together
this Rappin Jumping Jack Frost in a box feature
that opens into a new screen. This screen contains
thirty gift wrapped parcels, and all you have to
do is choose one parcel at a time to reveal your
hidden bonus. Unfortunately all good things have
to come to an end, so if you reveal the Rappin Jack
Frost this feature will end. All bonus values shown
will have been multiplied by your bet staked and
added to your payline value.
About Gift Wrap Video Slot
Reels – 5
Paylines – 25
Coin Sizes (casinos discretion) – 0.01, 0.02, 0.05,
0.10, 0.20, 0.25, 0.50
Coins Per Payline – 1 to 10
Highest Pay – 60 000 Coins (5 Gift Wrap Wild Baubles)
Maximum Jackpot Normal Game – 60 000 coins
Maximum Jackpot Bonus Game – 32250 coins
Progressive – No
Wild Symbol – Yes
Multiplier Symbol – No
Scatter Symbol – Yes
Feature – Yes – Pick Wrapped Gifts until Jack Frost
tells you to stop
Gamble – No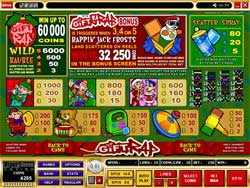 Payscreen Symbols for Gift Wrap
Gift Wrap Wild Bauble Symbols – 6000 times 10 coins
Rappin Jack Frost Symbols – 3, 4, or 5 Symbols triggers
the bonus
Scatter Spray Symbols – 80 times 250 coins
Green Hat Elf Symbols – 1000 times 10 coins
Purple Hat Elf Symbols – 800 times 10 coins
2 Elves together Symbols – 600 times 10 coins
The 5 Toys Symbols – from 50 to 200 times 10 coins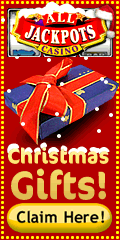 Goldbeard Slots from RealTime Gaming reviewed
---