Good to be Bad

It's Good To Be Bad Slots – Real Series Slot
It's Good To Be Bad Slots Review
It's Good To Be Bad Slots is an RTG powered Progressive Jackpot Slot Machine that you won't soon forget. It has 3 reels and 1 payline with a 3 coin per spin max bet.
Recommended Slots Casino for playing It's Good To Be Bad Slots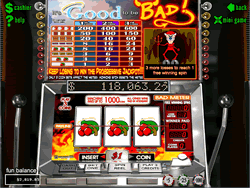 You can play It's Good To Be Bad Slots at any of our Choice Realtime Gaming Casinos:
The theme of this game illustrates that it can be fun to be bad occasionally. In order to win the Progressive Jackpot for this game, you have to rack up enough losing, that's right LOSING spins, to light up the Free Winning Spins meter. In this case, you need to get 29 losing spins in a row, but you need to keep in mind that each time you have a winning spin, the Free Winning Spins is set back to zero and you must start over. The little devil is there to tell you how many more losses you need to earn your next guaranteed free winning spins. If you would like, you can redeem your guaranteed free winning spins at any time during the game (just remember that this will also set the meter back to zero) by hitting the GOLD Cash In button that is right below the Cash Out Button on the machine. The coin sizes for this game are set at $0.25 and $1.00.
About It's Good To Be Bad Slots
Theme A reward for bad luck!
Player Demographic Intermediate to Experienced
Highest Pay Progressive
2nd Highest Pay 600 Coins
Reels 3
Paylines 1
Coins Per Payline 1 to 3
Max Coins 3
Coin Sizes $0.25 and $1.00
Progressive Yes
Wild Symbol No
Multiplier Symbol No
Scatter Symbol No
Feature No
Gamble No
Recommended Coin Size $0.25 and $1.00
Default Coin Size $0.25
No. Of Coins Allowed 1 Line x 3 Coins = 3 Coins
Default No. Of Coins 1 Line x 3 Coins = 3 Coins
Max Bet 1 Line x 3 Coins x 1.00 = 3.00
Min Bet 1 Line x 3 Coins x 0.25 = 0.75
Default Bet 1 Line x 3 Coins x 0.25 = 0.75
Jackpot in Coins Progressive
Max Jackpot Progressive

It's Good To Be Bad Slots reviewed
---