Golden Goose Genies Gems

Golden Goose Genies Gems Slots
Golden Goose Genies Gems Slots Review
Golden Goose Genies Gems Slots Video Slot Machine is now offering a wonderful new feature. It still offers 5 reels and 20 paylines with a 10 coin per line per spin max bet. And now, for only 50 additional coins per spin, you can try for the Golden Goose Bonus Feature.
Where can I play Golden Goose Genies Gems?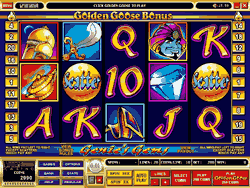 You can play Golden Goose Genies Gems Slots at any of our Choice Microgaming Casinos:
The theme of the game is Jewels. Golden Goose Genies Gems Slots does not have a Progressive Jackpot or a Gamble Feature. It does, however, offer a Wild Symbol, a 3x Multiplier, a Scatter symbol, and 4 new random Bonus games. The Wild Symbol, the 3x Multiplier and the Jackpot Trigger have been represented by the Genie Symbol for this game, and acting as the wild symbol, the Genie will replace all symbols on the reels, except the Scatters, and will triple all wins it creates. The Scatter Ball is the Scatter Symbol. And new to Genies Gems are the 4 random bonus games available including a Random Credits feature, a Pick X of Y game, the Money or the Egg game and the Pick a Card for a random multiplier game. The sizes for the game are One Cent, Two Cents, Five Cents, Ten Cents and Twenty Cents and the Jackpot for Golden Goose Genies Gems Slots is Eight Thousand Coins!
About Golden Goose Genies Gems Slot
Theme – Jewels
Player Demographic – This is for everyone
Clone of (casino sets) – Genies Gems
Highest Pay – 8,000 Coins
2nd Highest Pay – 2,000 Coins
Reels – 5
Paylines – 20
Coins Per Payline – 1 to 10 (plus 50 additional for bonus eligibility)
Max Coins – 200 for Base Game, 250 for Base + bonus
Coin Sizes – $0.01, $ 0.02, $ 0.05, $ 0.10, $ 0.20
Progressive – No
Wild Symbol – Yes
Multiplier Symbol – Yes
Scatter Symbol – Yes
Feature – Yes – Golden Goose Bonus
Gamble – No
Recommended Coin Size – $0.01, $ 0.02, $ 0.05, $ 0.10, $ 0.20
Default Coin Size – $0.01
No. Of Coins Allowed – 10 coins * 20 lines = 200 for base game
Default No. Of Coins – (10 coins *20 Lines) + 50 total coins for Golden Goose Bonus = 250 for Golden Goose bonus
Max Bet – $0.20 * 250 Coins (includes Golden Goose Bonus) = $50.00
Min Bet – 1 Line * 1 Coin * $0.01 = $0.01
Default Bet – ($0.01 * 20 Lines * 10 coins) + 50 Coins = $2.50
Jackpot in Coins – 8,000 Coins * 10 = 80,000 coins
Max Jackpot – 8,000 Coins * 10 Coins * $0.20 = $16,000

Golden Goose Genies Gems slots from microgaming reviewed
---