Mister Money

Mister Money Slots
Mister Money Slots Review
Money, like Beauty, is in the eye of the beholder. Take a closer look at Mister Money, and you will see both. A handsome Bachelor, a pretty young Maiden, bundles of Cash and Jewelery galore. All this put together for you like Poetry in motion. With the best in software technology, Realtime Gaming have once again excelled, developing a great game that is not only a pleasure to the eye, but a pleasure to the ever expanding pocket. Over and above the features Mister Money has in store for you, a Random Jackpot accumulates, just waiting to stike out and pay, who knows you may just be that licky winner. Needless to say "if you don't take a ticket, you can not expect to win", so sit back in that comfy armchair, kick off thos shoes and get yourself playing.
Where can I play Mister Money?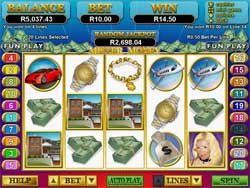 You can play Mister Money Slots at any of our Choice RTG Casinos:
Background to the Mister Money Slots
Watch as those White Diamonds roll around your screen adding value to all those symbols present. When scattered on a payline with an Orange Diamond (3 or more Diamonds, one of which has to be Orange), you will have struck the feature. Depending on the amount of Diamonds present (3,4 or 5), you will be given the opportunity to choose that many money bags. The money bags will reveal how many spins and/or multipliers have been activated in your feature. The great part about this feature, is that it may be re-triggered during play. A re-triggered game will play at your current games multiplier, but could add as much as 25 extra spins to your game. Not bad odds I would say.
About Mister Money Slot
Reels – 5
Paylines – 20
Bet per payline options – $0.01, $0.02, $0.05, $0.25, $0.50, $1.00, $2.00, $5.00
Highest Pay – $25 000 in main game. Maximum payout of $200 000 is allowed. Because free spins can be retriggered, any result is actually possible but is limited to a maximum of 40 000 times the line bet.
Maximum Jackpot Coins – 5000 Coins in main game. Unlimited coins in the free spins round because free spins can be retriggered. Limited to a maximum payout of 40 000 times the line bet.
Progressive – Yes – Random Progressive
Wild Symbol – Yes – the White Diamond
Multiplier Symbol – No
Scatter Symbol – Yes – the Red Diamond
Feature – Yes – Pick a money bag and get free games
or increased free game multiplier
Gamble – No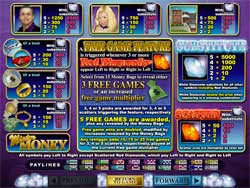 Payscreen Symbols for Mister Money
White Diamond Wild Symbols – 5000 times line bet
Red Diamond Scatter Symbols – 100 times line bet (including a wild symbol which doubles win)
Mister Money Symbols – 2500 times line bet (including a wild symbol which doubles win)
Mrs Money Symbols – 1500 times line bet (including a wild symbol which doubles win)
Mansion Symbols – 1000 times line bet (including a wild symbol which doubles win)
Ferrari/Lear Jet Symbols – 400 times line bet (including a wild symbol which doubles win)
Money Bags/Gold Ring Symbols – 300 times line bet (including a wild symbol which doubles win)
Bracelet/Watch Symbols – 200 times line bet (including a wild symbol which doubles win)

Mister Money slots from RealTime Gaming reviewed
---