Food Fight

Food Fight Slots
Food Fight Slots Review
Food Fight Slots is a fun and easy to play online slot machine. It has five reels and nine paylines and a forty five coin max bet to offer players. The theme for this amazing game is Food.
Recommended Slots Casino for playing Food Fight Slots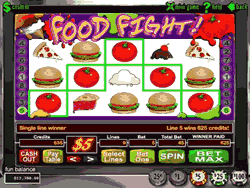 You can play Food Fight Slots at any of our Choice Realtime Gaming Casinos
Food Fight Slots is not a Progressive Jackpot game, it does not have a Wild Symbol, it does not have a Multiplier Symbol and it does not have a Gamble feature. The game does offer a Scatter Bonus Round and a Bonus Round. Food Fight Slots has a fabulous Scatter Bonus that randomly pays out up to 405 credits when you make a complete Ice Cream Cone, while betting the max bet. This game also offers a Bonus Round that offers you up to 3960 coins for hitting the characters shown with a pie. The regular reel symbols that RTG decided to use for this game are Puddings, Pastas, Pies, Tomatoes, Pizzas, and Burgers; all mixing very well with the theme of the game. The coin sizes for this game are one cent, five cents, twenty five cents, fifty cents, one dollar and five dollars. This slot machine offers a jackpot of 6250 coins and a secondary jackpot of 4000 coins.
About Food Fight Slots
Theme Food
Player Demographic Intermediate to Advanced
Highest Pay 6,250 Coins
2nd Highest Pay 4,000 Coins
Reels 5
Paylines 9
Coins Per Payline 1 to 5
Max Coins 9 Lines x 5 Coins = 45 Coins
Coin Sizes $0.01, $0.05, $0.25, $0.50, $1.00, $5.00
Progressive No
Wild Symbol No
Multiplier Symbol No
Scatter Symbol Yes – Ice Cream Cone
Feature Yes – Food Fight Bonus
Gamble No
Recommended Coin Size $0.01, $0.05, $0.25, $0.50, $1.00, $5.00
Default Coin Size $0.01
No. Of Coins Allowed 9 Lines x 5 Coins = 45 Coins
Default No. Of Coins 9 Lines x 1 Coin = 9 Coins
Max Bet 9 Lines x 5 Coins x $5.00 = $225.00
Min Bet 1 Line x 1 Coin x $0.01 = $0.01
Default Bet 9 Lines x 1 Coin x $0.01 = $0.09
Jackpot in Coins 6,250 Coins
Max Jackpot 6,250 Coins x 5.00 = $31,250

Food Fight Slots from RealTime Gaming reviewed
---