Pharoahs Gold

Pharaohs Gold Slots – Real Series Slot
Pharaohs Gold Slots Review
Pharaohs Gold Slots was created by Real Time Gaming Software. RTG could not have done a better job with this incredible game, it is the perfect slot for slot lovers!
Where can I play Pharaohs Gold Slots?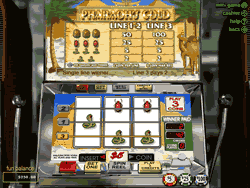 You can play Pharaohs Gold Slots at any of our Choice Realtime Gaming Casinos:
This fabulous game offers 3 reels and 3 paylines with an affordable max bet per spin of 3 coins. Pharaohs Gold Slots has an Egyptian theme, and RTG created graphics and sound effects that fit in very well with this theme. Pharaohs Gold Slots does offer a great Wild Symbol which is represented by the Eye symbol. This Eye symbol will replace any of the other reel symbols to create a winning combination. The other reel symbols include King Tut (which is also the Jackpot Trigger), Scarabs, and King Cobras. There has been one non-paying symbol included in this game, this symbol is the Golden Ankh. The jackpot for this game is 100 coins and the secondary jackpot is 50 coins. The coin sizes available for Pharaohs Gold Slots are Five Cents, Twenty Five Cents, Fifty Cents, One Dollar and Five Dollars.
About Pharaohs Gold Slots
Theme: Egyptian
Player Demographic: Tourist to Intermediate
Highest Pay: 100 Coins
2nd Highest Pay: 50 Coins
Reels: 3
Paylines: 3
Coins Per Payline: 1
Max Coins: 3 Lines x 1 Coin = 3 Coins
Coin Sizes: $0.05, $0.25, $0.50, $1.00, and $5.00
Progressive: No
Wild Symbol: Yes – the Eye
Multiplier Symbol: No
Scatter Symbol: No
Feature: No
Gamble: No
Recommended Coin Size: $0.05, $0.25, $0.50, $1.00 and $5.00
Default Coin Size: $0.25
No. Of Coins Allowed: 3 Lines x 1 Coin = 3 Coins
Default No. Of Coins: 3 Lines x 1 Coin = 3 Coins
Max Bet: 3 Lines x 1 Coin x $5.00 = $15.00
Min Bet: 1 Line x 1 Coin x $0.05 = $0.05
Default Bet: 3 Lines x 1 Coin x $0.25 = $0.75
Jackpot in Coins: 100 Coins
Max Jackpot: 100 Coins x $5.00 = $500.00

Pharaohs Gold slots from RealTime Gaming reviewed
---