I.R.I.S. 300

IRIS 300 Slots
IRIS 300 Slots Review
IRIS 300 Slots is a fun and interesting Real Time Gaming Slot Machine. It offers five reels and one payline with a per spin max bet of three coins.
Recommended Slots Casino for playing IRIS 300 Slots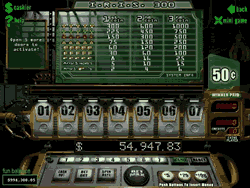 You can play IRIS 300 Slots at any of our Choice Realtime Gaming Casinos:
The theme of IRIS 300 Slots is Nuclear Power Plant, and the symbols offered by this game are Yellow Hazard Signs, Green Hazard Signs, Fire Hazard Signs, Electric Shock Hazard Signs, Triple Gold Bars, Double Gold Bars, and Single Gold Bars. IRIS 300 Slots offers a unique feature that really adds to the excitement of the game. Before each spin of the reels, you are asked to close the doors over two of the 7 reels in order to begin the game. If you bet 2 coins, one laser beam will randomly stop above one of the doors, if you bet 3 coins, two laser beams will each randomly stop above a door, if the door is closed, the laser beam will open it, increasing your chances to win. If all seven doors open, a multiplier wheel spins, giving you a chance to win 10x your initial win. To win the Progressive Jackpot, all seven doors must be open, you must receive the 10X multiplier and have hit the 5 Radiation Hazards.
About IRIS 300 Slots
Theme Nuclear Power Plant
Player Demographic Intermediate to Advanced
Highest Pay Progressive
2nd Highest Pay 1,000 Coins
Reels 5
Paylines 1
Coins Per Payline 1 to 3
Max Coins 1 Line x 3 Coins = 3 Coins
Coin Sizes $0.50
Progressive Yes
Wild Symbol No
Multiplier Symbol No
Scatter Symbol No
Feature No
Gamble No
Recommended Coin Size $0.50
Default Coin Size $0.50
No. Of Coins Allowed 1 Line x 3 Coins = 3 Coins
Default No. Of Coins 1 Line x 3 Coins = 3 Coins
Max Bet 1 Line x 3 Coins x $0.50 = $1.50
Min Bet 1 Line x 1 Coin x $0.50 = $0.50
Default Bet 1 Line x 3 Coins x 0.50 = 1.50
Jackpot in Coins Progressive
Max Jackpot Progressive

IRIS 300 Slots from RealTime Gaming reviewed
---