777 Inferno

Triple Seven Inferno Slots – Real Series Slot
Triple Seven Inferno Slots Review
When you are looking for the best and most fun Progressive Three Reel Slot Machine to play online, Triple 7 Inferno Slots is exactly what you are looking for.
Where can I play Triple Seven Inferno Slots?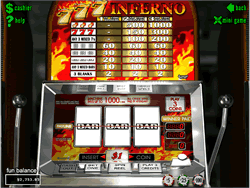 You can play Triple Seven Inferno Slots at any of our Choice Realtime Gaming Casinos:
Background to the Triple Seven Inferno Slots video slot
It has 3 reels and 1 payline and a max bet per spin of 3 coins. The Fire theme of this game will really heat things up quickly, and to make things even hotter, it offers spectacular graphics and sound effects. There are lots of great symbols used in Triple 7 Inferno Slots, such as Flaming 7s, Red 7s, and Triple Bars, Double Bars and Single Bars. One of the great benefits of the game is that you can even win when you hit nothing but blank reels! To win the Progressive Jackpot for Triple 7 Inferno, all you need to do is to hit three Flaming 7s on the payline, and you have to be betting the max bet per spin of three coins. The coin sizes that are offered are Five Cents, Twenty Five Cents, Fifty Cents, One Dollar and Five Dollars, and with a max of only three coins per spin.
About Triple Seven Inferno Slots
Theme: Fire
Player Demographic: Tourist to Intermediate
Highest Pay: Progressive
2nd Highest Pay: 500 Coins
Reels: 3
Paylines: 1
Coins Per Payline: 1 to 3
Max Coins: 3
Coin Sizes: $0.05, $ 0.25, $0.50, $1.00, $5.00
Progressive: Yes
Wild Symbol: No
Multiplier Symbol: No
Scatter Symbol: No
Feature: No
Gamble: No
Recommended Coin Size: $0.05, $ 0.25, $0.50, $1.00, $5.00
Default Coin Size: $0.05
No. Of Coins Allowed: 1 Line x 3 Coins = 3 Coins
Default No. Of Coins: 1 Line x 3 Coins = 3 Coins
Max Bet: 1 Line x 3 Coins x 5.00 = 15.00
Min Bet: 1 Line x 1 Coin x 0.05 = 0.05
Default Bet: 1 Line x 1 Coin x 0.05 = 0.05
Jackpot in Coins: Progressive
Max Jackpot: Progressive

Triple Seven Inferno Slots from RealTime Gaming reviewed
---