Sunken Treasure

Sunken Treasure Video Slot – Real Series Slot
Oceans are as deep as they are wide, finding Treasure could be a major task to undertake. Realtime have made this possible from your favorite arm chair. Sunken Treasure has the cutest little Divers, Ships, Fish, Star Fish and of course chests of Treasure. The animation, illustration and sound, is really excellent, and as for the features, they certainly could fill plenty of pockets. Sunken Treasure is a 5 reel x 20 payline game, with a Substitute symbol, and a Scatter symbol. Once the feature has been triggered, your selection of chests could trigger a second bonus payable at the end of the feature. A Random Jackpot is also offered during the game, and could pay out at any time during play, irrespective of your current payline.
Where can I play Sunken Treasure?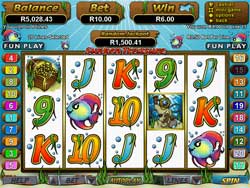 You can play Sunken Treasure at any of our Choice Realtime Gaming Casinos
You get to choose which Treasure Chests you want. Once the feature has been activated, the quantity will be determined by whether 3, 4 or 5 scattered Ships have triggered the feature. The chosen chests will indicate either how many free games are awarded, or how many multipliers have been awarded. Should you choose a chest that has either Blue or Red Jewels, you will be awarded further multipliers, paid out after the feature
has been completed. Blue Jewels will give you anything from 10 – 100 times your triggered bet, and Red Jewels will give you anything from 100 – 500 times your triggered bet. As a Scatter feature, 2 ships will double your triggered bet. The Diver is your wild card, and substitutes for all symbols except the Ship. You may play a minimum of 1 credit per payline, but for the best possible yield, it is recommended that you play maximum credits per payline.
About Sunken Treasure Video Slot
Reels – 5
Paylines – 20
Bet per payline options – $0.01, $0.02, $0.05, $0.25, $0.50, $1.00, $2.00, $5.00
Highest Pay – $25 000 in main game. Maximum payout of $200 000 is allowed. Because free spins and massive multipliers can be re-triggered, any result is actually possible but is limited to a maximum of 40 000 times the line bet.
Maximum Jackpot Coins – 5000 Coins in main game. Unlimited coins in the free spins round because free spins and huge multipliers can be re-triggered. Limited to a maximum payout of 40 000 times the line bet.
Progressive – Yes – Random Progressive
Wild Symbol – Yes – the Diver
Multiplier Symbol – No
Scatter Symbol – Yes – the Sunken Ship
Feature – Yes – Select a treasure chest feature with free games and multipliers. You also get a chance to pick Jewels which trigger multipliers of up to 500 times the original line bet.
Gamble – No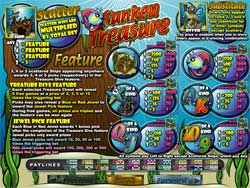 Treasure Chest Symbols – 5000 times line bet (including a wild symbol which doubles win)
Angel Fish Symbols – 2500 times line bet (including a wild symbol which doubles win)
Starfish/Anchor Symbols – 1000 times line bet (including a wild symbol which doubles win)
Ace/King Symbols – 400 times line bet (including a wild symbol which doubles win)
Queen/Jack Symbols – 300 times line bet (including a wild symbol which doubles win)
Ten/Nine Symbols – 200 times line bet (including a wild symbol which doubles win)

Sunken Treasure Slots from RealTime Gaming reviewed
---