Sonic Boom

Sonic Boom Slots
Sonic Boom Slots Review
Sonic Boom Slots is a new Microgaming Slot Machine. It has 3 reels and 1 payline and a max per spin bet of 2 coins.
Where can I play Sonic Boom?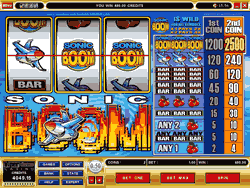 You can play Sonic Boom Slots at any of our Choice Microgaming Casinos:
Background to the Sonic Boom Slots
The theme for this game is Aviation. The game offers symbols including the Sonic Boom Logo, the Military Jet, Triple Bars, Double Bars, Single Bars and Cherries. This slot machine does not offer a Progressive Jackpot, it does not offer a Scatter Symbol and it does not offer a Bonus or Gamble Round. Sonic Boom does, however, offer a Wild Symbol that also doubles as a 2x and 4x Multiplier. The Sonic Boom Logo is the Wild Symbol as well as the Multiplier. It substitutes for all other symbols on the reels and if it is used once to complete a winning combination, the normal payout is doubled, and if it is used twice to complete a winning combination, your normal win is quadrupled! The coin sizes for Sonic Boom are Five Cents, Ten Cents, Twenty Cents, Twenty Five Cents, Fifty Cents, One Dollar, Two Dollars and Five Dollars and the jackpot for this game is Twenty Five Hundred Coins!
About Sonic Boom Slots
Theme – Aviation
Player Skills – Tourist
Highest Pay – 2500 Coins
2nd Highest Pay – 1200 Coins
Reels –
Paylines – 1
Coins per Payline – 1 or 2
Max Coins – 2
Coin Sizes – $0.05, $ 0.10, $0.20, $0.25, $0.50, $1.00, $2, $5
Progressive – No
Wild Symbol – Yes
Multiplier Symbol – Yes
Scatter Symbol – No
Feature – No
Gamble – No
Recommended Coin Size – $0.05, $ 0.10, $0.20, $0.25, $0.50, $1.00, $2, $5
Default Coin Size – $1.00
No. Of Coins Allowed – 1 line x 2 coins = 2 Coins
Default No. Of Coins – 1 line x 2 coins = 2 Coins
Max Bet – 1 line x 2 coins x $5.00 = $10.00
Min Bet – 1 lines x 1 coin x $0.05 = $0.05
Default Bet – 1 line x 2 coins x $1.00 = $2.00
Jackpot in Coins – 2500 Coins
Max Jackpot – 2,500 coins Jackpot x $5.00 = $12,500.00

Sonic Boom slots Review
---