Elementals

Elementals Slots
Elementals Slots Review
Elementals Slots is an incredibly fun new Microgaming Slot Machine! It offers players 5 reels and 20 paylines of pure fun with an amazing 200 coin per spin max bet, which equals out to a max of 10 coins per payline! The theme of this great game revolves around 4 Super Heroes – Earth, Air, Fire and Water.
Where can I play Elementals?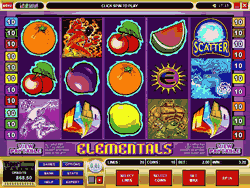 You can play Elementals Slots at any of our Choice Microgaming Casinos:
Background to the Elemental Slots:
Elementals Slots offers several extras that just add to this already amazing game, such as a Wild Symbol, a Multiplier Symbol, A Scatter Symbol, a Free Spin Bonus Feature and a Gamble Feature. The Wild Symbol is represented by the Wild Symbol and will replace any symbol on the reels except, of course, for the Scatter Symbol. The Wild symbol also acts as a 2x Multiplier, doubling any win it helps to create. The E Symbol is the Scatter symbol, and has two very important jobs in the game. The first job it fills is as the Scatter symbol. When between 2 and 5 of these symbols appear anywhere on the screen, you will be paid as per the Scatter paytable. Also, when one of these symbols appear on both the 1st and 5th payline, you will activate the 20 Free Spins feature. All wins are doubled during this Free Spin Round, and it is possible to earn more free spins during a free spin round. This new slot game also offers a Gamble feature that allows you to double any win, even the jackpot, if you guess correctly. To win the Jackpot in Elementals, you need to hit 5 Wild Symbols on the same payline which will give up to $25,000, depending on your coin size choice, and if you happen to hit those Wild Symbols during a Free Spin, you will double that win to a whopping $50,000!
About Elemental Slots:
Theme – Super Hero
Player Demographic – Tourist to Intermediate
Clone of – N/A
Highest Pay – 5,000 coins
2nd Highest Pay – 1,000 coins
Reels – 5
Paylines – 20
Coins per Payline – 1 to 10
Max Coins – 20 Lines x 10 Coins = 200 Coins
Coin Sizes (casino sets) – $0.01, $0.02, $0.05, $0.10, $0.25, $0.50
Progressive – No
Wild Symbol – Yes
Multiplier Symbol – Yes
Scatter Symbol – Yes
Feature – Yes, Free Spins
Gamble – Yes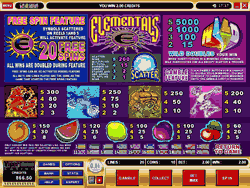 Recommended Coin Size – $0.01, $0.02, $0.05, $0.10, $0.25, $0.50
Default Coin Size – $0.01
No. Of Coins Allowed – 10 coins x 20 lines = 200 coins
Default No. Of Coins – 20 lines x 10 coins = 200 Coins
Max Bet – 20 lines x 10 coins x $0.50 = $100.00
Min Bet – $0.01 x 1 coin per line x 1 line = $0.01
Default Bet – 10 coins per line x 20 lines x $0.01 = $2.00
Jackpot in Coins – 5,000 Coins
Max Jackpot – 5,000 Coins x 10 Coins per Line x $0.50 = $25,000

Elementals slots from microgaming reviewed.
---