Witch Doctor

Witch Doctor Video Slot
Witch Doctor Video Slot Review
Witch Doctor offers great rewards of 25 free games when you have three or more crazy scatter chickens perch on your screen. Should these three or more chicken appear during your feature, you will automatically be rewarded the feature again. The Witch Doctor also play a major role, because as a powerful man he can change himself into any symbol to pay you your just rewards in any winning combination.
Where can I play Witch Doctor?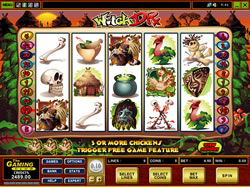 Background to the Witch Doctor slots
Voodoo is a practical religion, playing an important role in the family and the community. One's ancestors, for instance, are believed to be a part of the world of the spirits, of the Loas, and this is one way that Voodoo serves to root its participants in their own history and tradition. Another practical aspect of Voodoo ceremonies is that participants often come before the priest or priestess to seek advice, spiritual guidance, or help with their problems. The priest or priestess then, through divine aid, offer help such as healing through the use of herbs or medicines (using knowledge that has been passed down within the religion itself), or healing through faith itself as is common in other religions.
About Witch Doctor Slots
Theme – Voodoo
Reels – 5 Reels
Paylines – 20 Paylines
Coin Sizes – 0.01; 0.02; 0.05; 0.10; O.20; 0.25; 0.50
Coins per Payline – 1 – 20
Highest Pay – 100,000
Maximum Jackpot – 5,000 X 20 coins per line = 100,000 coins in base game and 5,000 X 20 coins per line X 3 multiplier = 300,000 coins in Free Spin Bonus Game
Wild Symbol – Yes – Witch Doctor
Scatter Symbol – Yes – Chicken
Free Spins – Yes
Gamble Feature – No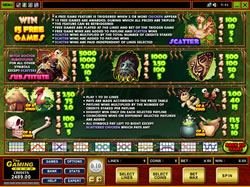 Payscreen Symbols for Witch Doctor Slots
Witch Doctor (wild) – 5000 times 20 coins per line
Voodoo Man – 1000 times 20 coins per line
Mask – 500 times 20 coins per line
Grass Hut – 250 times 10 coins per line
Plant – 25 times 20 coins per line
Skull – 100 times 20 coins per line
Limb bone – 100 times 20 coins per line
Voodoo Doll – 200 times 20 coins per line
Skulls on Sticks- 200 times 20 coins per line
Cauldron – 125 times 20 coins per line
Mortar and Pestle – 125 times 20 coins per line
>Summary of Witch Doctor Slots
With 5 reels x 20 paylines you could play anything from as little as 1 coin to 20 coins to catch the crazy chicken feature which awards you with 15 free games and triples your payline bet. On the sideline you have a Witch Doctor to substitute all symbols other than the scatter chickens.

Witch Doctor slots from microgaming reviewed
---